March 5, 2016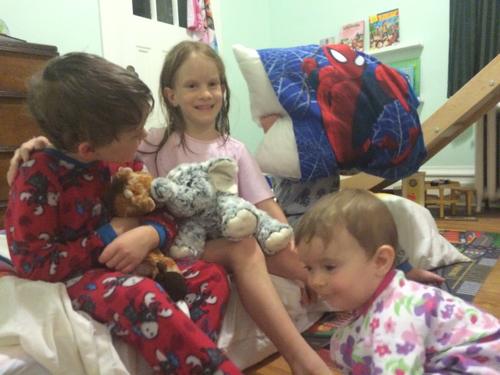 The kids were agitating for a sleepover with cousins so we borrowed Xander from his parents overnight!
Everyone came for dinner and Xander was left behind with pjs and Saffi the giraffe.
At 9:05 I texted Uncle Dave to inform him "Elizabeth and Xander just got told off for whispering..." He replied "I think that makes it an official sleepover". They quieted down after that but in the morning Xander claimed he didn't sleep at all and just watched his cousins sleep all night.
They were up early but hanging out in the bedroom watching the clocks to see it go green. Elizabeth was discombobulated to discover that I didn't want to wait for official wake up time - we'd arranged a Skype with cousins in Japan and needed to call before Erika and Maria were in bed! After chatting for a bit we headed downstairs and made pancakes together while Skyping with grandparents in Angola. So it was quite the international morning!
Isabelle came by to play a bit before Elizabeth and Matthew headed out on an adventure with Grandma.
Xander declared it the "best sleepover ever". Elizabeth and Matthew are already planning next time...
You might also like
- Monkey See, Monkey Do
(0.368864)
- Recital, Home Depot, movie night
(0.366667)
- Theo: A special Father's day gift
(0.363121)
- Strike Day
(0.360394)
- Christmas Day 5: Beach day
(0.352132)
All