March 8, 2016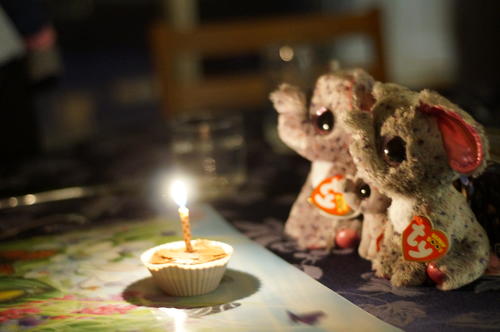 Beanie Boo stuffed animals come complete with birthday and somewhat lame rhymes "This is the day all my dreams will come true, and all I want is to share them with you!" "I like the night more than the day, So we'll have fun in wacky ways!" "Some say I'm a strange looking monkey. My legs are short and my body is chunky!"
Elizabeth has memorized a frightening number, along with their corresponding birthday. Elephants are her favourite animal (because they start with the letter E, like her name) and so she is particularly fond of her elephant Beanie Boos, who are called "Specks". Specks' birthday is March 8th, so she's been campaigning hard to celebrate.
I am clearly an indulgent parent, because not only did I make cupcakes and light a candle for a stuffed animal, but I declared March 8th to be a feast day. (In our house we typically skip dessert during Lent except on feast days.) We also declared that there would be no additional feast days for stuffed animals this Lent, because Matthew immediately spotted the loophole and declared it would be Lion's birthday tomorrow so they could have dessert two days in a row. He was mollified by being allowed to celebrate Lion's birthday on March 8th as well.
You might also like
- Triathlon
(0.346154)
- Dance Camp
(0.340723)
- 12 Days of Christmas: New Year's Eve
(0.338631)
- Family party
(0.337449)
- Christmas
(0.337041)
All