March 13, 2016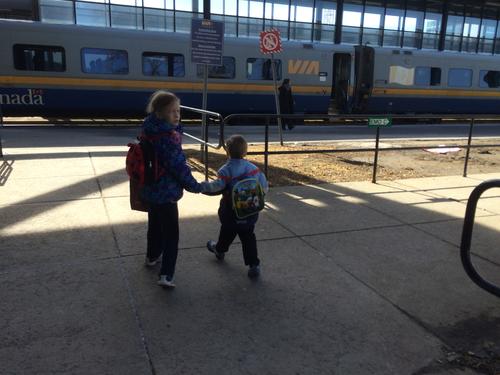 I decided to take the kids down to visit Aunt Mary in her Hippo house in Wellesley Ontario for part of March break. Brendan thought the idea of fourteen hours of driving solo with three kids was possibly unwise. So we took the train instead.
We were lucky enough to have a business class carriage on our way down - leather seats, curtains AND four seats facing each other. The kids were bummed that we brought a picnic so I didn't let them order food or even a "teensy wincy juice box that we would share" but otherwise bounced around happily. No one amputated their fingers on the cool folding table, or electrocuted themselves on the non-childproof outlets, though this was not due to lack of trying. They also didn't manage to disassemble the curtains or seats - that was the point at which I mandated naps. After that they calmed down a bit!
I remember vividly the pain of schlepping a car seat + kid + suitcase around Union station the last time I took the train with then two-year-old Elizabeth. So I asked Mary to borrow one for Matthew and packed Elizabeth's booster. Amelia luckily still fits in a bucket. The kids had to carry their own daypacks but otherwise everything was in one suitcase which Elizabeth was actually capable of pulling if necessary. If travelling with three kids on the train, I highly recommend limiting luggage. It's also handy to have one kid that can't get away by virtue of being strapped in ;)
Matthew did his part to limit luggage by conveniently and suddenly toilet training two days before our trip. It was AMAZING to only have to pack diapers for one kid. He was really keen to pee on the train, but the business class toilet was horrible. It was dirty. It stunk. There was pee on the floor. In short he took one look and refused to use it. By the time we got to Swiss Chalet past Toronto hours later I was seriously concerned about an accident, and Matthew had decided he was "never going to pee again until we get home". Ultimately I prevailed but it was a near thing!
1
On April 2, 2016 at 08:06 am
Grandma H
said:
Oh, Matthew, you are so funny!So glad you are a big boy now!
You might also like
- At Mary's
(0.409891)
- London
(0.406446)
- First day of "preschool"
(0.405841)
- Orchestre
(0.405498)
- Dr Lynn is leaving :(
(0.404115)
All