March 21, 2016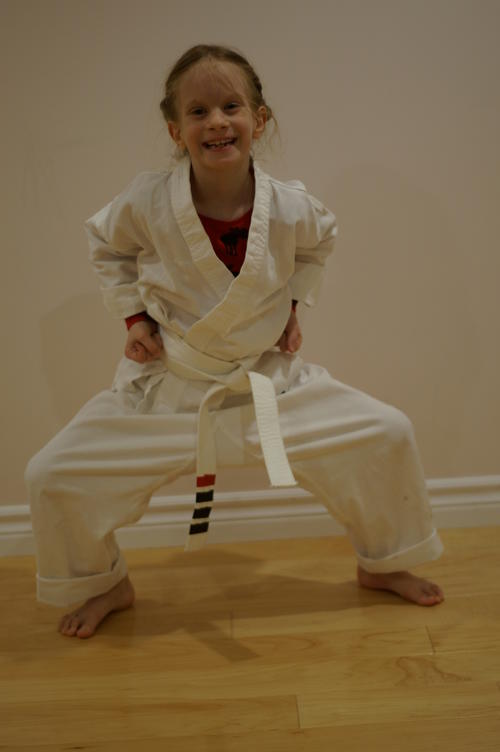 The Douvris dojo gives kids stripes on their belts to help measure progress so that they can feel encouraged between belts. The kids need to earn three black stripes, followed by a red stripe before they get a chance to test for their next belt.
Black stripe three came March 11th (lung infection and antibiotics notwithstanding; I did check with the doctor first about whether to keep her home!). Today she earned her red stripe.
We have had some discussions lately about not back-talking to Mom and Dad and generally showing more respect especially after Elizabeth was extremely rude to Auntie Mary while we were in Wellesley. In order to test for your belt, the karate dojo makes the parents and child fill out a form to evaluate general maturity. Is the child doing her chores? Homework? Listening to parents? Being respectful to those around her? Elizabeth burst out "but that has nothing to do with karate!!!". She was mortified to learn that the dojo takes her behaviour outside of classes as seriously as inside. After a very sober discussion, she's on notice to pull up her socks so that she is allowed to test for her white-yellow belt.
If all goes well, Elizabeth's test is April the 2nd. She is SUPER excited.
You might also like
- New doctor
(0.371661)
- Social Distancing: Day 3
(0.363546)
- Pandemic Karate
(0.357775)
- Red Stripe Test
(0.357337)
- Mother's day karate, spring fling and recital
(0.356195)
All