February 21, 2016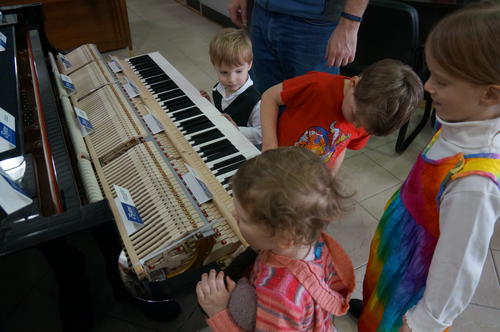 Xander and all of my kids had their winter music recital today. Have I mentioned how much I like the way that Shana and Hannah do recitals? They start on time, take only an hour including refreshments at the end, finish on time and have frequent breaks that include all the kids in the audience. Such a great experience for the kids (and I'd be remiss if I didn't also note that if you are looking for piano lessons we think MYC is amazing and Shana and Hannah are fantastic teachers)
The recital was at the Steinway Piano Gallery, who are apparently allowing the sticky-fingered rug rats of Ottawa to run around their showroom containing at least a million dollars worth of pianos and to actually play their pieces on their top of the line concert grand (sticker price: ~$225,000) This is likely the best piano Elizabeth will ever touch in her whole life. Lorianne was pretty psyched to be able to try it out herself. We think she might have appreciated the experience more than the kids did (hee!) Her mom was visiting so we dragged her along too. Grandma J and Auntie Janice completed our cheering section!
This was Xander's first piano recital and he seemed completely unphased. Matthew was a little unsure at first as there were a lot of people he didn't know but soon got into it. He sure is an enthusiastic singer!
Titus made his first appearance tucked into Mrs Hannah's pouch with brother Timmy. It was also Amelia's first music recital. She totally puked on the floor right before the recital started (thanks Uncle Dave for cleaning the floor) and wanted to eat her instrument rather than shake it but I thought she did pretty well for nine months...
Elizabeth completely surprised us by having a fit of nerves. My aunt Joanne is a very talented pianist and composer. Elizabeth received some of her music for Christmas and is very determinedly was working away at some of the pieces. "Firefly" particularly caught her fancy and she practiced it so often that some of her other class pieces suffered a bit. We were explaining this to Mrs Shana, who suggested Elizabeth might like to play Firefly for the recital. Well, Elizabeth went up to the piano all by herself at her first recital when she was not quite five and wasn't nervous at all, but this time she was SUPER nervous to the point that we thought she was going to cry when she performed it in class.
"Everyone will know that I'm different" she explained. "It's not in the fat book!" She insisted on playing it very slowly and with me pointing, so it definitely was not her best rendition. Honestly I should have refused to help as I was a hindrance rather than a help. She also normally holds down the pedal, but "couldn't find it" on the super fancy piano. Never mind, she still did an awfully good job and we are super proud of her.
After the recital, the kids all got glow bracelets and candy as a treat. Matthew had his on his wrist and was proudly examining it at every opportunity. Next thing I know it had somehow cracked open, gushing up his nose, into his eyes, mouth and all over his dress shirt. Auntie Janice helped me flush him out a couple of times while he hollered and tried to run away (poison control later told us they recommend at least ten minutes - that might have required more than two adults). He's fine, but not sure what he thinks of glow bracelets anymore...
PS You can hear (and buy!) Joanne's music, including what the piece sounds like when Joanne plays it on her website at www.joannebender.com
You might also like
- Karate Tournament
(0.455064)
- Matthew's first piano recital
(0.445957)
- National Aviation Day
(0.443478)
- Dr Lynn is leaving :(
(0.443207)
- Farm, Car wash, Bug Feast, Sugar Bush
(0.442769)
All