February 20, 2016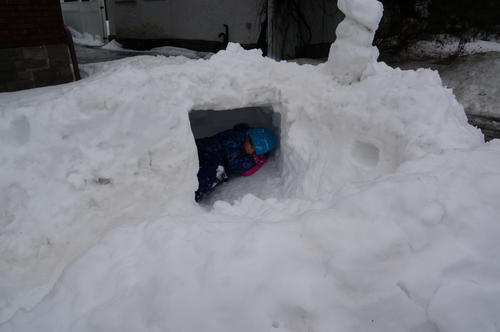 We had enough snow to make a pretty decent fort. The kids made a snowman to guard the front door. I did most of the digging of the fort. Elizabeth complained that I made the roof pretty thin as she wanted the fort to last a long time but I was worried about a potential collapse so they had to make do.
I drew the line at making more than two bedrooms. There's an emergency slide, steps, a kitchen and play area. But mercifully they agreed that if anyone needed toilet facilities they could go inside.
1
On March 23, 2016 at 02:07 am
Grandpa H
said:
Brrrr!
You might also like
- Choppy Choppy
(0.320755)
- Deep Freeze
(0.319328)
- Winter sticks
(0.303462)
- Snow Day
(0.300654)
- A visit from Godmother Rachel
(0.3)
All