March 25, 2016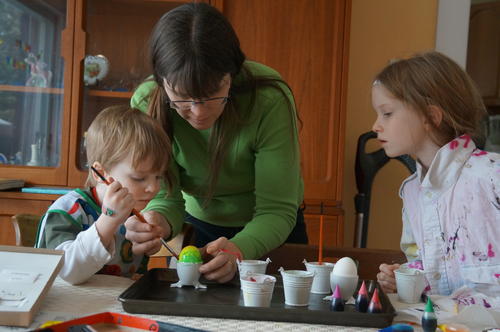 Good Friday started with church and looking for 30 pieces of silver in the basement.
Auntie Janice made hot cross buns and helped decorate eggs with us. Even though she can't eat any of them (it was super appreciated!). Auntie Karen and Uncle Dave weren't feeling well so Good Friday ended up being rather low key and I didn't get around to making any of the resurrection rolls or cookies that we usually do.
I tried a different recipe for colouring the eggs in an attempt to avoid overcooking the yolks (cook eggs first, then put into cool natural dyes). That part worked, but I think the colours were less vibrant so probably we'll go back to our normal recipe next year. Elizabeth was not keen to draw with wax after burning herself last year. I was just as happy to keep this an "adults-only" activity since Matthew and fire is not a comfortable prospect.
Matthew and Elizabeth watched the StoryKeepers Easter story, with popcorn as a special treat. "That was WEELLY tarry" (really scary) said Matthew at the end.
1
On April 13, 2016 at 01:49 am
Grandma H
said:
Your eggs are looking very beautiful! Some day I must see the storykeepers version.
You might also like
- Good Friday
(0.409158)
- Good Friday
(0.401728)
- Race weekend 2017
(0.386982)
- Good Friday 2015
(0.386653)
- Matthew's first skating class
(0.376796)
All