March 26, 2016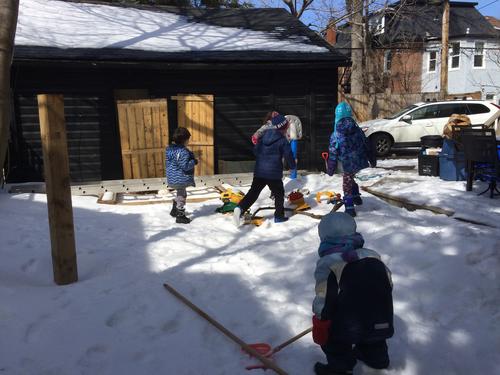 Normally we clean the house on Saturdays but instead I took all three kids along to the dojo and left Elizabeth there with Adi. Matthew greatly enjoyed watching but there were great tears when he realized he wasn't invited to Adi's house too. So I promised him dinosaurs and bugs. He even finally got over his concern that touching the "dung" bean bags would be "melly".
Our piano tuner extraordinaire suggested we should be increasing the humidity for our piano, so we recently purchased a larger system to plug into the ductwork in the basement. Bonus: no refilling and Matthew can't play with the knobs. Since there were no kids at home, I told Brendan he should seize the opportunity to install it. "Are you sure?" he texted back. "I WAS cleaning our house..."
Elizabeth and Adi had a wonderful time playing together. They had no face paint, so made do with chocolate. I gather they ate some too... The resulting videos are marvellous.
After the museum I took Matthew and Amelia to pick up some groceries at the Isabella Loblaws. It's a very small store, so I was surprised to discover free food literally at the end of every aisle. Cake, coffee, raw veggies, little pizzas, ice tea, coke... And hanging out in the ice-cream aisle - a live band with drumset, saxophone, double bass and keyboard singing "O when the Saints" with enough vim to shake the building. Took us a while to get out of the resulting chaos but eventually we made it back to get Elizabeth.
When we got home the neighbours were all outside waiting to play. There is quite a hoard of them that play together now and they are conveniently the same age as our kids. It was lovely and spring-like and although we still had lots of snow from the last snowstorm it was disappearing fast. In short, a gorgeous day for playing in the snow.
The house was still a mess, but I decided I wouldn't let that stop me from throwing an impromptu cookie party. I texted some neighbours and dragged the posse from outside in and we had hot chocolate and cookies.
1
On April 12, 2016 at 10:17 am
Mary @ Parenthood
said:
A huge thank you is due to Adi's moms Lise Anne & Michelle for making and letting us post the videos. Seven-year-old girls on a play date are hilarious.
You might also like
- Digger
(0.395428)
- Virtual School: Week 37
(0.391829)
- 7.5 ish years
(0.38914)
- The Big Clock
(0.382943)
- 5th Birthday Party
(0.382695)
All