April 6, 2016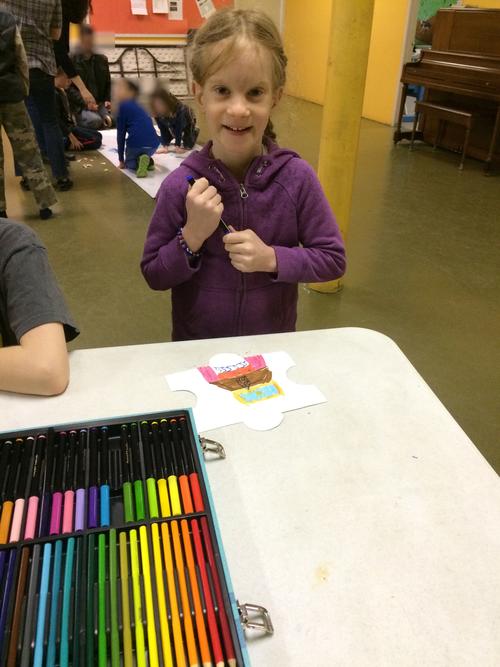 Elizabeth goes to school, but we do a lot of "school" at home as well.
Since I don't want to overload her with homework, during the school year we've mainly focussed on reading (which the school wants us to do as well anyway) and math. She's been steadily working through the Math-U-See Beta curriculum since Christmas and I've been really pleased with it. It's short enough that she can usually fit it in as part of our regular morning routine and she is definitely making progress.
To switch things up I've been giving her practice exams from Kangaroo Math which she really enjoys. I toyed with the idea of actually doing the Kangaroo Math exam but they scheduled her age group during church on Palm Sunday so that was that. In general she enjoys math, though she isn't super fond of word problems, especially the currency ones. Time to find some games that require making lots of change!
In any case, we had the opportunity to participate in an art unit for a homeschooling co-op recently. Elizabeth loves art and I think it's valuable to build connections with kids who aren't going to a traditional school (and the parents teaching said kids!), so I decided to go for it. At the time I signed up we had just come off the disastrous year that was SK so we figured there was a real possibility we'd be pulling her out of school for grade one. Luckily she has an amazing teacher but I decided that we could take Elizabeth out of school for the six mornings that co-op needed without jeopardizing her education! Or more precisely, without getting grief from her school...
Elizabeth really enjoyed the art unit. I leapt in with both feet and taught a unit on our first day about tempura (egg) paints. Super fascinating and I had never really considered before how much work making the paints and brushes must have been during the Renaissance. Not to mention how many eggs it must taken to paint some of the larger pieces! No one ever mentions what they did with the egg whites...
At the end of the unit they had a little art exhibition complete with decorations, food and music. It was awesome, though I was a little embarrassed about my own contribution which was definitely more on the "crafty" side as opposed to the "art" side.
1
On April 26, 2016 at 04:48 pm
Grandma H
said:
Meringues of course!

so which was your contribution? I'm sure crafts are art!
2
On April 26, 2016 at 09:13 pm
Mary @ Parenthood
said:
If you look at the big banner - my contribution was the elephants bouncing on a spider web (I asked the kids what to draw lol). It's on the bottom row, three in from the right. Elizabeth drew a kitty (middle row, four from the right) and a butterfly (top row, second from the right). She made the butterfly with Matthew's help actually - she borrowed his new spinner that he got as a birthday present from Auntie Judy C and made the paint splotches. Then she cut out the butterfly and glued the paintings underneath.
You might also like
- Social Distancing: Day 3
(0.42651)
- MYC
(0.425277)
- Grade 1 update
(0.420954)
- Swimming lessons
(0.410256)
- Summer School Summer
(0.410142)
All