March 20, 2016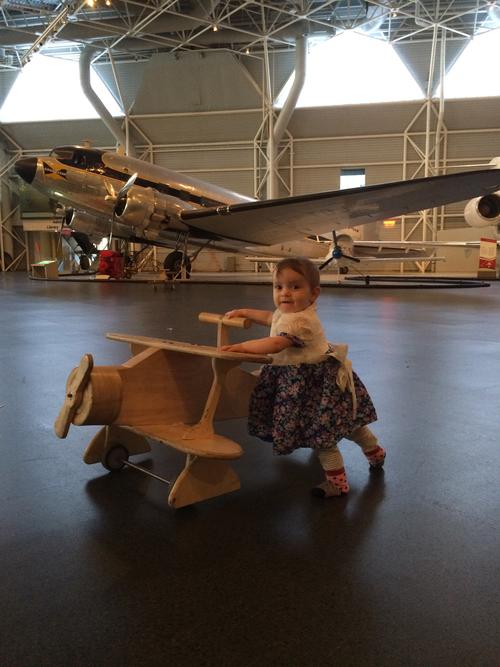 There were cool March Break activities going on at the Canada Space and Aviation museum while we were away. Janice told us we had better not miss them, so the kids and I headed to the museum to make playdough aliens and other Star Trek crafts. The crafts are Star Trek themed because the museum is getting a Star Trek themed exhibit soon which is going to be awesome. However, we haven't yet introduced Star Trek to the kids so they were a little bemused. "What's a tribble?" "Never mind, just throw the stuffie!"
Matthew has started referring to this as the "airport" museum. This drives Elizabeth insane "Are we picking anyone up? No. It's Air PLANE not Air PORT." Thus guaranteeing that it will be "airport" for a while yet...
Amelia had a great time pushing around her own little airplane - she's growing up fast!
1
On April 21, 2016 at 07:19 am
Auntie Janice
said:
Well, technically it's Aviation, not airplane or airport, LOL! I guess she hasn't seen much of Rockcliffe airport at the museum.



Good news is that they are not the only one confused! We've had a handful of tourists over the years try to check in for their international flights with us, and even one of my friends was late to pick me up at the Ottawa airport because they somehow managed not to pay any attention to which airport their GPS was directing them to.
2
On April 26, 2016 at 10:14 am
Pat Kennedy
said:
Is that the one in Gatineau? If so, there's a banner there for a friend of mine, William Stevenson (as opposed to he friend, William Stephenson, who also has a banner). If it isn't the same, the Gatineau one is worth a visit.
You might also like
- Bug Day
(0.344123)
- Cottage Days: Jack and Olivia
(0.344051)
- MosaiCanada
(0.335404)
- Race Weekend (Children's Marathon)
(0.334898)
- Space Bubble
(0.33281)
All