May 21, 2016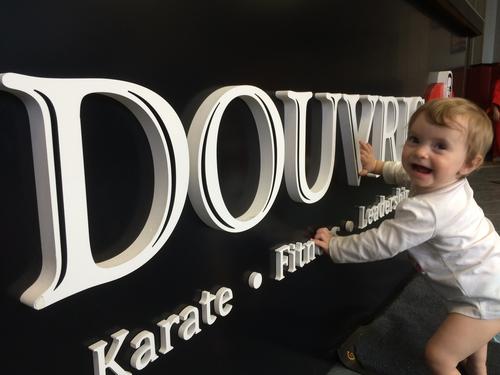 Elizabeth's dojo was participating in the karate nationals and Elizabeth was really keen to go and see the tournament. I think the last time I mentioned karate Elizabeth had just received her white yellow belt and graduated to the "big kids" class.
The transition from tykes to kids was kind of rough. The classes looked similar to me but apparently they are a little more serious and she was upset that "her" sensei was no longer there (that sensei teaches tykes). Then Adi got a stripe and Elizabeth didn't, despite going more often. So Elizabeth was discouraged and I spoke to the sensei about it and they gave her a pep talk which perked her up quite a bit. Then a couple of classes later she finally got her stripe and suddenly karate was okay again.
Anyway, classes were cancelled because of the nationals and Elizabeth pointed out that if we went to watch it wouldn't take any extra time because normally we go to karate anyway and it's FREE Mom! So, Brendan dropped me and the kids off at the hotel where it was taking place downtown and we went to see what it was all about.
It took me about thirty seconds to ascertain that perhaps bringing my highly impressionable young son to an event where people were kicking, punching and using weapons (!!!) was not my brightest move ever. But he was enthralled. They got bored approximately five minutes after we arrived and Matthew immediately started emulating his surroundings. "KARATE PUNCH!" he yelled. Everyone thought he was cute, except Elizabeth who was annoyed that he was stealing her thunder. But then Elizabeth's old sensei was competing and she got to watch her win a silver and that was pretty exciting!
Afterwards we took the bus home and I used my ninja skills to keep a slightly over-excited Matthew from punching everything in sight.
You might also like
- Orchestre
(0.414414)
- Virtual school: Week 4
(0.410435)
- Skating
(0.409626)
- Karate Tournament
(0.409091)
- Nationals
(0.406082)
All