May 28, 2016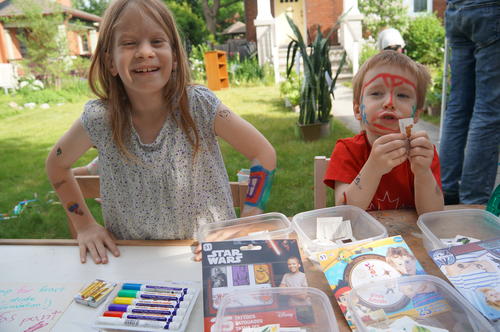 The much anticipated garage sale day arrived and the kids were ready to do some face painting and tattoos!
Hayley gave Elizabeth and Matthew some pointers in hawking their wares. Actually Hayley probably should have gotten a cut of the profits as she had a very effective and amusing patter going. Elizabeth was inclined to look beseechingly at passersby and hope they saw her sign, but the garage sale is a busy place and she needed to use her loudest voice. Matthew didn't need much encouragement to shout - the kids actually worked pretty well together. The only unanticipated glitch was that far more people were interested in tattoos than face painting. But never mind, there was enough work to keep two tattoo artists busy and eventually she got a few customers willing to try the face painting too.
I was quite amused (and a little surprised) to discover that a good percentage of her customers were not kids. The kids were interested, but we found the parents tended to sweep them past - so focussed on "getting to the garage sale" that they missed out.
Matthew had a bit of trouble waiting for his customers to pick their own tattoo. He clearly had his own artistic vision and we had to give at least two customers more than one tattoo after he insisted on putting a Captain America tattoo on a pre-teen girl looking for Disney princesses. (They were good sports about it though). Elizabeth had a few good chats with various people about why she wanted to raise the money, including with one lady who had had heart surgery as a small child.
Elizabeth also recruited her friend Mila (with her friend) to help at one point while she ate lunch.
Overall it was very successful and Elizabeth is talking about doing it again. Although next year I think maybe we'll do it for a shorter time so that we can walk around the garage sale ourselves.
In the end Elizabeth raised $170.02 towards her Jump Rope for Heart, bringing her grand total to $546.37! We're pretty proud of her for working so hard towards her goal.
1
On June 18, 2016 at 04:25 am
Grandma H
said:
Congratulations Elizabeth! The makings of an entrepreneur!
2
On June 18, 2016 at 11:41 am
Pat Kennedy
said:
Well, done, Elizabeth!
You might also like
- Adventure
(0.410058)
- Science and Tech Museum
(0.405813)
- RACE
(0.402147)
- Homeschool wk may 19-22
(0.401709)
- Broken nose
(0.401552)
All