May 29, 2016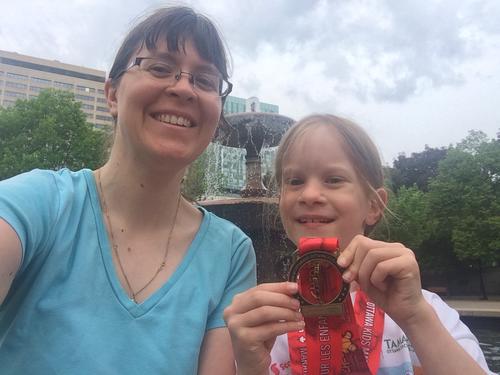 Elizabeth kind of randomly decided that she wanted to do a running race. We are not a running family at all but physical exercise is to be encouraged so I looked up races online and discovered that the Ottawa Race weekend had a 1km race for kids Sunday morning.
I would have signed up for the 2km race and done it with her, except that it was on Great Glebe Garage sale day. Truth be told I was pretty glad not to be running in the extreme heat that was Saturday afternoon!
Anyway, the only hitch was that the kids needed to complete 41km of running or other physical activity prior to the race and we didn't find out about the race until two weeks beforehand. So we decided not to sign up right away but to try doing our kilometres. I decided to count all of Elizabeth's karate classes since she switched to the kids class and then we started to work on some kilometres. Mostly we did some longer bike rides, because did I mention that Mommy isn't a runner? Elizabeth insisted that she do some running too but most of it might have been running up and down our block. Daddy was teasing that maybe I should sign up for a race too so we have some more incentive for "proper" race training.
In any case, Elizabeth managed to get her kilometers and I went to sign up / pick up her race kit. That was a bit of an adventure in itself as there was no parking and way too much traffic - next year I should leave the car at home! I thought the pickup for the race was extremely well organized but the actual kit was a bit confusing. We weren't really sure about what Elizabeth had to wear nor how to attach the race bib to her shirt. Did I mention we aren't runners?
We are somewhat familiar with the difficulties in navigating / parking downtown on race weekend since we attend a downtown church, so Elizabeth and I biked to her race. Again I found it a little confusing figuring out where we were supposed to go. There were a LOT of people. Elizabeth wasn't too sure she wanted to race anymore. "But what am I supposed to DOOOOO?" she asked. "How will I know which way to go?" "Is it the kind of race where you are supposed to try to win?" I will admit that I was very nervous. The other parents at the start of the race seemed completely unconcerned. The other kids started to jockey to get to the front of the waiting area, but Elizabeth very politely queued in line (not always facing the right direction). This did not improve my anxiety. Eventually the race started and I realized that watching the kids run away en masse was not the best vantage point for pictures.
So I ran with the other parents to try to find the finish line. I did not exactly succeed, although I did watch her run past at roughly 2/3rds the way along. I saw the leaders come running along miles ahead of the rest of the pack, felt a little better about being anxious when the parents next to me had a mild freak out over the wheelchairs being wheeled towards the runners (I guess they thought it might be their kid) and I even got a video of Elizabeth when I remembered I wanted to get one mid-cheer.
I did not get to watch her cross the finish line as I was too busy running towards the pickup location but I did locate her pretty quickly thereafter and she was all smiles over the participation medal. She was super proud that she managed to run the whole way. Apparently she thought about walking like some of the other kids but dug deep and kept going. She ran 1.2km in 10:22, finishing 306th out of 881 kids, 133 out of 493 girls and 24 out of 179 in her age category (under 8s)
She decided she is going to run the junior Spartan mud race on June 19th, after verifying that she doesn't have to wear her best clothes. Matthew wants to run a race now too...
After the race I let Elizabeth decide whether to bike home or hang around until church. She decided to bike home so that she could go bounce on the trampoline at Simon and Martin's house (our neighbours). After church we met up with Simon and Martin again and walked to Dow's lake where the kids got to play with Simon's remote control boat for a while.
By the time we got back we were pretty hot - did I mention that there was a heat advisory? - so it was time for freezies under the octopus sprinkler. Turns out that sprinkler fun is a good way to attract the neighbourhood kids. We've got a pretty good posse going in the 0-10 age around here and we're loving the little community that is springing up around us.
1
On June 18, 2016 at 04:34 am
Grandma H
said:
Just cracked up at Elizabeth's worry about which way to go. So proud of her!
You might also like
- Karate Tournament, Birthday and ER Part 2
(0.459786)
- Virtual school: Week 2
(0.458594)
- Homeschool wk may 11-15
(0.45679)
- Umbilical hernia repair
(0.45502)
- Karate Tournament
(0.451211)
All