May 23, 2016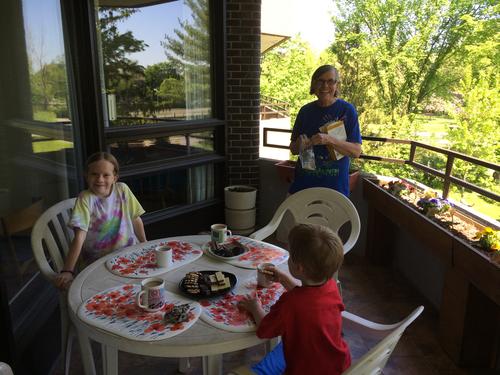 For Victoria day we went swimming at Grandma's. After swimming we always play with tinker toys, drink hot chocolate and eat copious quantities of cookies. Now that it's summer we got to watch the boats launch off the new dock at Patterson creek!
After swimming Brendan and I took the kids to the tulip festival to get an ice cream before Elizabeth's last music class of the year. But we might have forgotten to bring cash. So Daddy borrowed my bike to dash home for his wallet while I stood in a very long line for the ATM. I actually made it to the front of the line around the time that he made it back. Having seen the exorbitant fee they wanted I decided to wait.
But we didn't really have time to eat ice cream anymore so Elizabeth and I hopped onto our bikes and biked to music class while Daddy applied ice cream all over his son. Or so it appeared from the pictures that arrived during class! Elizabeth and I stopped at the ice cream truck on the way home but after MUCH debate she decided to get a slushie instead of ice cream because she didn't want to get dirty.
You might also like
- Strike Day
(0.380421)
- Sheep Shearing
(0.380165)
- Carleton Butterfly show 2016
(0.379021)
- Winterlude (Ice slides)
(0.376756)
- Happy Birthday Janice!
(0.373973)
All