May 26, 2016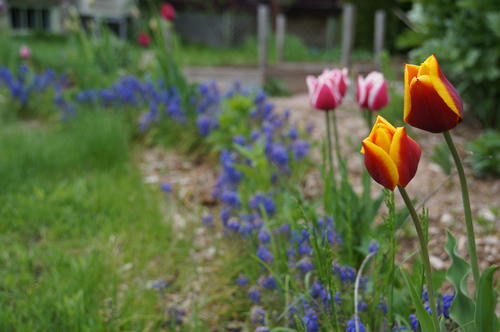 These are all pictures taken of my garden this spring, which I think is coming along nicely, if I do say so myself! The forsythia and lilac both bloomed magnificently this year despite the digging last year.
I got my tomato seedlings in late so they weren't as big as I might have liked, but never mind. So far I've planted sunflowers, potatoes, corn, carrots, peas, yellow/green beans, watermelon, pumpkin, lima beans, beets, onions, tomatoes, basil, rosemary, thyme, leeks and two kinds of mint. I also have black and red currants, rhubarb, lovage and gooseberries that come back every year. Speaking of mint, it must have been a harder winter than I realized because I had a ton last year and it is ALL dead. I still cannot believe that I killed the mint. The darned strawberries that won't fruit are still going strong though.
I've had enthusiastic help from many small children, especially Matthew who especially loves to clip, dig and water things. Amelia thinks she likes weeding (thinning baby plants?) but she's nearly as big a nuisance as the neighbourhood cats and squirrels.
That's what the rubber snake is all about. So far it appears to be mostly working on me - I jump almost every time I go to the garden. There has been much less pooping in the garden since it appeared... I've also put down some eggshell to discourage cats and slugs. And when I say "I", I mean my youngest two have very enthusiastically spread out so many egg bits that Brendan thought someone might have spilled paint.
I put out a bit of diatomaceous earth to reduce the roly poly bug population and blood meal for the squirrels... There are plans for netting and maybe a bit of those peppers... We will see...
1
On June 18, 2016 at 04:21 am
Grandma H
said:
Your flowers are indeed magnificent! How nice to have such eager helpers; grooming future gardeners. That snake is way too realistic, though.
You might also like
- Harvest
(0.443387)
- Garden
(0.442442)
- Garden
(0.400212)
- Garden update
(0.38754)
- Halloween
(0.385841)
All