June 4, 2016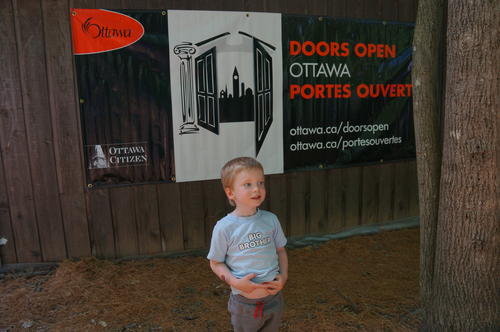 Brendan and I have been working on a large woodworking project when the weather is nice (mostly Brendan!) and Elizabeth was invited to her friend Aidan's birthday party, which meant that we didn't get out to too many Doors Open events this year.
Elizabeth had specifically requested to go to see the traffic control centre, but of course this was the first time in seven years that it wasn't participating. No OC Transpo, no Traffic Control, no sewer processing plant... So sad! In any case, Elizabeth is a huge fan of animals so I thought it would be nice to go see the Wild Bird rescue as it was located a mere ten minutes from the birthday party!
It was really well done with a walking trail around the facility, a scavenger hunt for the kids and of course many, many birds. We were impressed by how LOUD it was at feeding time. I was surprised by how many pigeons, crows and starlings were there as these are kind of "nuisance" birds and (ahem) possibly not worth investing effort to rehabilitate.

Then again, I did take an hour and a half round trip out to the wildlife centre in order to attempt to rescue a sewer rat, so what do I know?
1
On June 23, 2016 at 10:36 pm
Mary @ Parenthood
said:
I must say, this did raise the question as to why a certain family member apparently flouted Ontario law to raise that sparrow when the bird centre would happily have done so.
You might also like
- Voting Day again
(0.364583)
- Attack of the two year old
(0.364439)
- Snowphy Trophy
(0.360256)
- 12 Days of Christmas: New Year's Eve
(0.359509)
- Easter Egg hunt
(0.35493)
All