June 2, 2016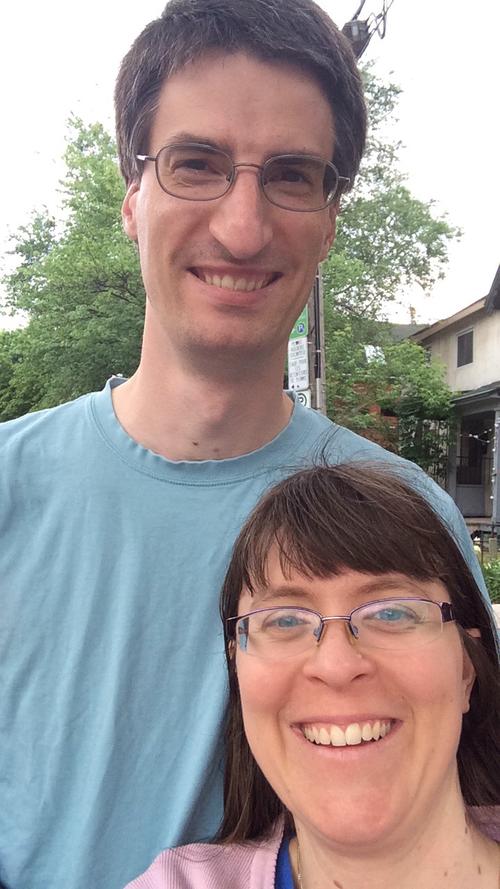 It was our fifteenth wedding anniversary. We celebrated with a work meeting and a trip to various garden centres where Brendan waited in the car with sleeping Amelia and I texted him pictures of flowers and garden accessories. I came home with a rainbow of annuals.
In the evening we went out for a romantic and totally gluten free dinner at Aroma Greek Restaurant. Greek on our anniversary is kind of our "thing" since Brendan proposed in a Greek restaurant ;) Particular highlights were the saganaki and ginger raspberry cheesecake. It was lovely.
Auntie Janice watched the kids with the help of our first "not family" babysitter Emma G. from church. Assuming that you count godparents as family, which we kind of do around here! Sounds like it all went pretty smoothly - Janice took the littlest for a walk and managed to trick her into sleeping instead of screaming.
Fifteen years sure went fast though.
1
On June 24, 2016 at 06:47 am
Lori
said:
Happy anniversary to one of my favorite couples....may God continue to bless you with many, many more 🐸💐💖
2
On June 24, 2016 at 03:58 pm
Grandma H
said:
We're so proud of you!

That restaurant sounds fabulous.
3
On June 24, 2016 at 06:09 pm
Pat Kennedy
said:
HAS IT REALLY BEEN FIFTEEN YEARS! CONGRATULATIONS, YOU TWO!
You might also like
- Opa!
(0.351385)
- Canada Day
(0.348395)
- Happy Canada Day
(0.342432)
- Erika is FIVE
(0.340909)
- LRT Grand Opening
(0.338667)
All