June 11, 2016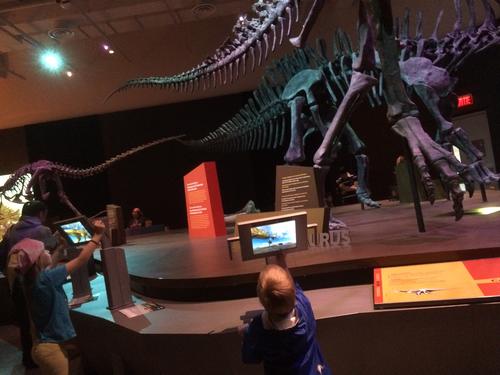 There's a new exhibit at the museum of Nature (Ultimate Dinosaurs). Auntie Janice saw it at the ROM a few years ago and loved it. Now we had a chance to go see it too. The kids very much approved. We were also quite pleased to discover that our favourite parts of the temporary bug exhibit have all made their way into the permanent bug exhibit. Matthew was especially happy to find his robotic microscope which he likes to move back and forth over the bugs. Elizabeth even managed to get him to stop long enough to examine the scales on the butterfly and the hairs on the bee (her favourite part).
They also got a chance to scratch away at a fossil. Elizabeth likes chipping out dinosaur bones better. Matthew thought it was fun to paint the rock with vinegar though.
Amelia was mostly interested in pushing the stroller "by self".
You might also like
- Angie 2015
(0.37408)
- Rachel
(0.367213)
- Bug Day
(0.356792)
- Smiley Face Pancakes
(0.348597)
- Face paint practice
(0.348214)
All