October 22, 2009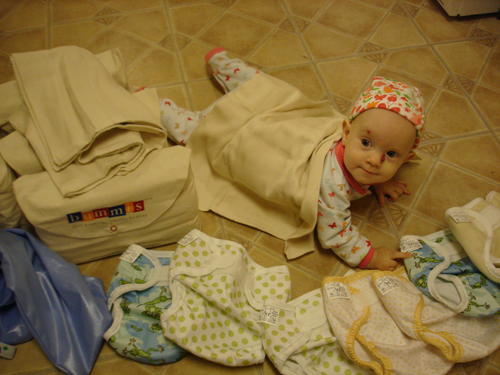 Our new diapers arrived today and not a moment too soon! Yeah, okay so we first noticed that Elizabeth was growing out of her cloth diapers back at the beginning of July... We dithered a bit, retired our Polar Bummi covers (only good to 13 pounds) and learned to put the Super Whisper Covers on very very loosely. But with Elizabeth now crawling and teetering on the edge of 15 pounds which is the complete upper limit, she was popping her velcro and making us nervous.
It was time.
Although we looked at many, many different options, we ended up getting the same types of diapers, from the same place. Why mess with what worked? The prices were good and we didn't have to leave the house to order them. With any luck, these ginormous things will be the last diapers Elizabeth will ever wear. They may be huge, but the frightening thing is that they fit!
1
On October 24, 2009 at 01:01 am
Grandma H
said:
I just love the picture of Elizabeth in the box.
2
On October 25, 2009 at 06:11 pm
Stephanie
said:
We're *this close* to switching over to cloth diapers - at least "part time." I'll keep you posted... :)
3
On October 25, 2009 at 06:12 pm
Stephanie
said:
Oh, and I have to agree with Grandma H. That box picture is incredibly cute. What a sweet smile she has.
4
On November 10, 2009 at 09:07 pm
Vera Kan
said:
I am impressed you made it to over 7 months with the small-size diaper covers. Astra was out of those by the time she was 4 months old! (but these medium-sized Bummi covers are still going strong after nearly a fully year!)
You might also like
- Balance Bike
(0.366391)
- Elizabeth end of year concert
(0.357864)
- First day of Maternelle
(0.350299)
- 4Cats
(0.34555)
- Butterfly Show
(0.344978)
All