June 19, 2016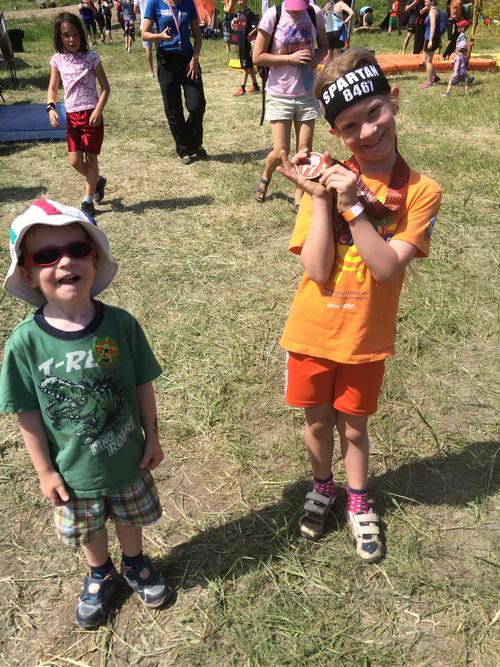 It's Father's day today. Usually we'd let Brendan sleep in before papering him with homemade cards made with much love and enthusiasm but it was mud race day. So we made him get up early instead.
Next door neighbours Noemie and Alex were doing the Junior Spartan race too, which was nice because I was able to follow Trevor to Edelweiss. He parked close to the race course, but I got waved on to the next parking lot which turned out to be far enough away to need a shuttle. Since we had wanted to stay together, as soon as I realized that was what was happening I turned around and went back to see if I couldn't possibly park near him. They gave me one of the last spots! Dianne was less lucky and they had to wait for the shuttles forever. Aidan and Caitlin ended up running in the heat behind Elizabeth and Alex so we had some extended cheering opportunities.
It was brutally hot - apparently all we need to have a really hot summer is to sign Elizabeth up for a race every weekend... Elizabeth had dozen blisters after doing too many monkey bars at Theo's birthday party but she still insisted on practising for the race climbing the rope at our neighbours and trying the monkey bar setup at Spartan. Of course she ripped her hands right open and needed some minor medical attention. Bandaids just sweated right off so the medics told her to come back after the race for more saline and new bandaids.
I was surprised by how steep the race course was. The kids took off running fast and then pretty much everyone walked up the first hill. Elizabeth did well - she kept running at a surprisingly steady pace. I might have to prepare myself more physically if I'm going to help Matthew with this one next year!
She and Alex stayed close together up until the first obstacle and after that he gradually pulled away. She did great on the running part but the obstacles slowed her down a great deal. She was very careful going over each part and lined up behind other kids to wait her turn, even at the tunnel when there were three empty ones! Oh well - she still did great and had fun but I did have to giggle at how polite she was. Her favourite obstacle was a bit like a spider web made of ropes. They don't time the kids so I have no idea how long it took her. Definitely less time than it would have taken her parents...
She didn't get very muddy at all because strangely they didn't have barbed wire in the kids version so the kids mostly just stood up into the net to avoid the mud. I told her next year she'll have to roll in the mud. She said she might, so she can give me a mud hug.
You might also like
- Karate Tournament, Birthday and ER Part 2
(0.44461)
- Big Baby Bed
(0.438978)
- Crazy Pickles
(0.429641)
- Canoe Camping
(0.428132)
- River Oak
(0.423432)
All