June 15, 2016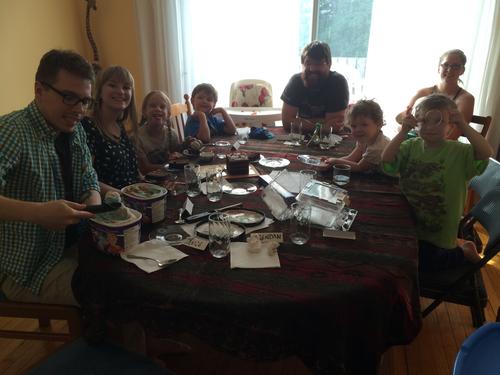 Elizabeth's godparents all came for dinner and cake to celebrate Elizabeth's 7th (!) baptism birthday. Not sure what we were thinking scheduling all of the baptisms in June but June is clearly party month around here!
Since Amelia's early baptism birthday I had discovered a liturgy for celebrating baptism birthdays (yay!) so I printed it out complete with a suggested reading (we used Romans, chapter 6 verses 1-7). We lit her candle, we retraced the sign of the cross on her head and then we ate much cake.
It was just right, even if I DID forget to get our usual photo of Elizabeth with her godparents.
Elizabeth might have stolen Rachel's temporary engagement ring (her real one is getting resized), but she did give it back.
You might also like
- Baptism birthday
(0.357588)
- First Communion
(0.341216)
- 1st birthday
(0.339893)
- A stuffy birthday
(0.339655)
- Amelia's baptism birthday
(0.33945)
All