October 26, 2009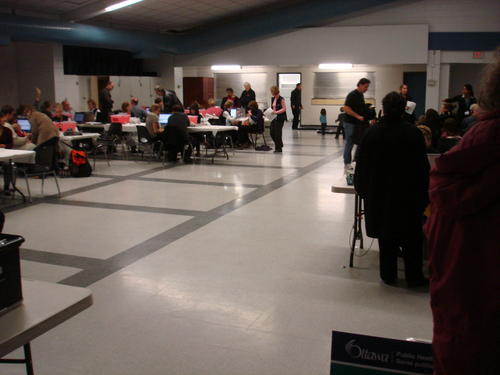 H1N1 flu shots became available to those of us in the high risk priority group today, and Auntie Janice, myself, Elizabeth and Brendan duly headed out to Tom Brown arena.
The plan was for Auntie Janice and myself to receive the shot as we didn't think Brendan was eligible and based on the information I had I was not super comfortable getting the full-strength shot for Elizabeth. We decided to bring her so that she could see that other people get shots too!
When we arrived at 5pm, the line looked pretty daunting, snaking out the building and around the parking lot (the photo is from about 5:45pm - by this time we'd actually made it about half way from the end of the line to the door). We looked at each other. Did we really want to get the shot now? Since it takes about ten days to become effective, and since H1N1 is definitely in our community, we decided that the earlier the better. Furthermore, Auntie Janice didn't have time during the rest of the week to get immunized, so it was either now or next week sometime. We got out of the car.
Although the parking lot looked extremely full and there were cars lining the streets around the arena, Brendan found a parking space right next to the line. This was good, because I'd no sooner gotten into line than Elizabeth needed to be changed. Janice held my place while I headed to the car for diaper changing supplies.
We weren't in the line for more than a few minutes when we discovered some disquieting facts. First, some people had apparently started lining up at noon. Secondly, our line had not moved one inch in over half an hour. Thirdly, the person who was standing at the top of the line outside had been in line since 2:30pm, when the clinic officially opened. In other words, the line was moving slower than molasses.
By 5:30pm, one public health official started going up and down the line to let people know that if they had not made it into the doors by 8:30pm, they would not get a flu shot. How long is the wait? People asked. "We have no idea" he responded, but went on to say that they "only had 15 nurses" and that these needed to have breaks since "we probably didn't want to have someone give us a shot who had been doing nothing else for three hours". He added they were so busy "the nurses didn't even have time to take bathroom breaks"... Then he went on to comment that he'd "called his wife and kids and told them not to bother coming for the next two weeks. That's how long it will take for the lines to get under control." I'm not sure that his goal was to encourage people to leave, but certainly a number of people did! This caused the line to advance rapidly, so we decided to stay. Not that many people arrived for their shots after about 6:00pm. We're not sure whether this was because of the negative news coverage, but suspect so.
Night fell, and the temperature plummeted. We continued to stand in line outdoors. By 6:15pm Elizabeth was getting cold and hungry, so I took her to the car to warm up. While we were there I heard the 6:30pm news, which told people to "please stay home" since facilities were completely overwhelmed. Dr. Isra Levy, Ottawa's medical officer of health was on the radio smugly telling the city that "our surveys have shown that there would be a lot of interest", so he wasn't surprised by the turnout. People around us in line were rather outraged to hear this! We spent quite a bit of time amusing ourselves with math problems. "If there are 15 nurses giving injections at a rate of 15 minutes per person, how many people can they vaccinate?" "Now, what if at any given time three of the nurses are taking a break?" (Based on our calculations, it will be pretty challenging to hit the 10,000 to 12,000 person per day target!) Despite the chill, the long wait with no end in sight and the fact that the officials kept trying to get people to give up, the mood in line was patient. Some of the diabetics half-joked that the officials should let them give themselves their own needles in order to speed up the line.
It took until just before 8pm before they finally let us inside. The indoor waiting area was full, but not jam packed and I have no idea why they forced so many people to wait outdoors for so long, especially given how many people in line were somewhat "medically fragile". We were asked to pull a number and then milled around watching the local hockey game and waiting for our number to be announced by the poor security guard. Our crew pulled numbers 361 through 363, but apparently they didn't start using the numbered system until quite late, so I don't know how representative that is. They started letting people upstairs to the clinic in batches of 10, and then increased the batches to 15. Out of curiosity, we timed the batches when they switched to calling 15 people at a time. Batch #1 took 13 minutes, #2 took 12 minutes, #3 took 11 minutes and #4 took 14 minutes. By the time we were timing batch #4, someone decided it might speed up the line if people had a chance to read and fill out the release forms before presenting themselves to the triage nurses. Hmm... We were called at the end of batch #4 (8:35pm).
I was glad to have a chance to read the forms, as we realized that Brendan was in fact eligible for a shot by virtue of being in contact with me. Unlike the information available online through the city, the information on the back of the form was very informative. It turned out that children under the age of 10 would only be offered a half-dose of the vaccine, with the second dose to be given after a minimum of 21 days. The front of the form was rather badly designed, asking for your age in three different places (birth date, age and age range).
We walked up the stairs, handed our release forms to the registration desk, and were sent to a second waiting area.
The registration desk was responsible for entering our information into the computer. They swiped our health cards and asked us for the name of our family doctor. They only had five or so people registering names. Once you were registered, you'd wait a few minutes until your name was called. They ushered us over to a free nurse, who then searched her computer screen to locate your name. She gave the shot and then raised her hand to indicate that she was finished. My nurse had a hard time finding my name. The nurse next to her ended up finding it, counting down the screen and then telling my nurse to count "six names from the bottom". Once we were finished, we headed to waiting area #3 for fifteen minutes to receive our vaccination proof and make sure we weren't about to experience adverse effects.
All in all it was a rather surreal experience which made me wonder just how prepared our city really is for an actual emergency.
You might also like
- Homeschool wk may 11-15
(0.505528)
- Back to (virtual) school
(0.504551)
- Healthy Girl
(0.496236)
- Doors Open Ottawa 2009 - Traffic Operations
(0.493175)
- Mary and Andrea visit
(0.490691)
All