June 30, 2016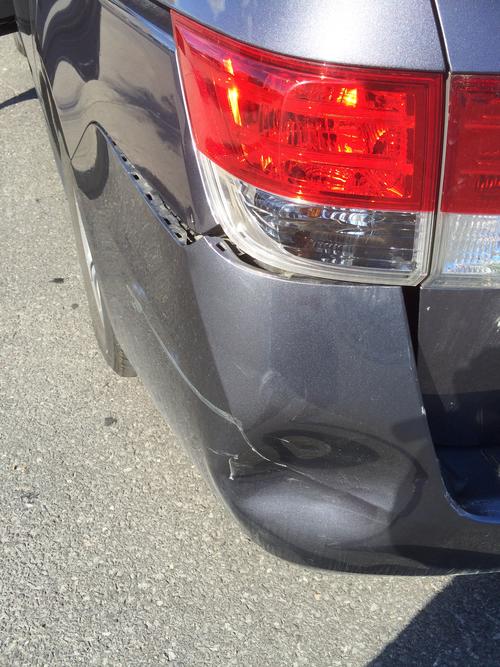 In retrospect, perhaps I shouldn't have started the day by reading Alexander and the Terrible, Horrible, No Good, Very Bad day.
Well, actually it wasn't a terrible day until Matthew lost baby dinosaur at Bulk Barn. He was distraught, even though he had been told to leave the toy in the car. And he only lost the dinosaur because he was having a meltdown over not being allowed to hang off the (tippy) cart. In any case, baby dinosaur was gone and we were late for karate.
I promised I'd go back to Bulk Barn and leave our phone number in case they found him. Then we dashed off to karate. I sent Elizabeth into the dojo and promptly backed into the car behind us.
I was NOT HAPPY. Matthew, trying to be helpful, says: "Don't worry Mommy, I'm ready to go to Heaven". Mommy is NOT in the mood for a deep theological discussion, but while assessing damage, I figure out that Matthew is expecting that since Mommy has just broken the car we are all about to die. I explain that I appreciate his bravery but that we are not in imminent danger of death. "But you broke the car", he points out. Puzzled. I explain that there's not even a scratch on the other car, but I am a bit upset about the damage to ours. Matthew considers for a moment. "Mommy?" he says. "Maybe next time it would be better not to break our car." Noted.
On the plus side, at least it's the same corner I already massively gouged when the van was relatively new. "You like that corner" says helpful husband. There might have been some growling.
1
On July 21, 2016 at 09:13 am
Pat Kennedy
said:
Every time I take the car out, I have to back down and eight foot wide driveway between two sandpaper-like brick walls. I have one corner left to scratch, then I'll have a full set.
You might also like
- Social Distancing: Day 14
(0.394004)
- Camp Otonabee
(0.391358)
- Missed the bus, Concussion, Matthew gets a stripe
(0.387692)
- Squirrel Bites
(0.386179)
- Party
(0.384776)
All