July 10, 2016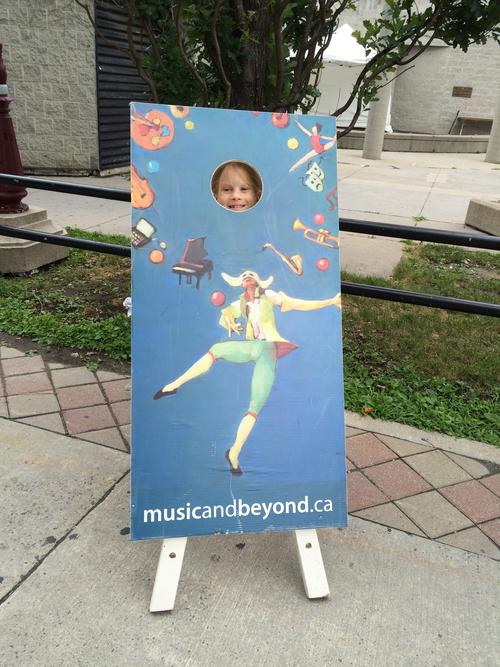 My friend Jen from church told us all about the Music and Beyond family expo. "Do you want to try playing a trombone?" I asked the kids. So after church we grabbed a quick lunch and Daddy dropped us off at the university for some musical fun.
We played around with puppets and got to try out all sorts of instruments. Elizabeth liked the trumpet the best; she was interested in the trombone but the slide kept coming out on her.
Elizabeth and Matthew were quite excited to try out the fanciest drum sets I have ever seen in my life. Not only can you practice them without sound, they don't just make drum noises anymore!
We made laughing cups with Mrs Shana and Mrs Hannah from MYC (they teach our kids music!)
We listened to some percussion duets. We watched a magic show (water suspended over the volunteer's head, apparently held only by surface tension). We went to a piano thing where they asked the kids to come and play a piece in front of everyone. Matthew went up and banged on the piano. Elizabeth refused to play. Then with some pressure she went up and played her recorder piece from school on the piano. Slightly frustrating because she knows so many more "real" pieces but apparently was too shy to attempt them without the music because she "might make a mistake". Oh well.
There were many helium balloons given out. Approximately every fourth balloon string we saw was attached to a wailing child who had popped or lost theirs. Inconsolable wailing kids should have been a warning to me but it was almost impossible to avoid them and I didn't feel like having that fight. Matthew and Elizabeth's balloons made it to the car. Elizabeth promptly popped hers. After listening to her sobbing for a few minutes, Matthew sweetly offered to share his with her. Then they played happily together with the survivor until bedtime.
You might also like
- Party
(0.417659)
- Good Friday 2015
(0.404377)
- Family Day
(0.40293)
- London
(0.402585)
- Family Day
(0.402337)
All