July 19, 2016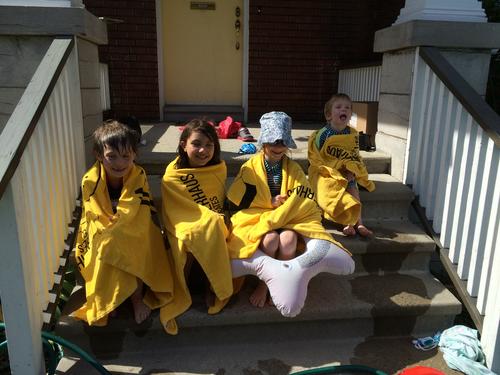 Summer week four was a lot of chilling out, especially with neighbours. "Little Elizabeth" (and Lauren and baby sister Charlotte) came with us to the beach. There's been a lot of puddling in our wading pool. We played at a lot of parks. We went to the wading pool homeschooling get together hosted by my friend Evelyn. There was more Pokémon catching.
Our housegroup came for brunch. We went to the dinosaur museum. "And Costco. Don't forget Costco", said Elizabeth. "Yes", said Matthew. "It's my best shopping place."
But my favourite was stopping at Olive and Chili for more gluten free treats.
You might also like
- Canada Day Street Party
(0.332046)
- The dinosaur museum
(0.319555)
- Trading Post, birthday party
(0.309434)
- First day of Maternelle
(0.309365)
- Happy New Year
(0.308664)
All