July 26, 2016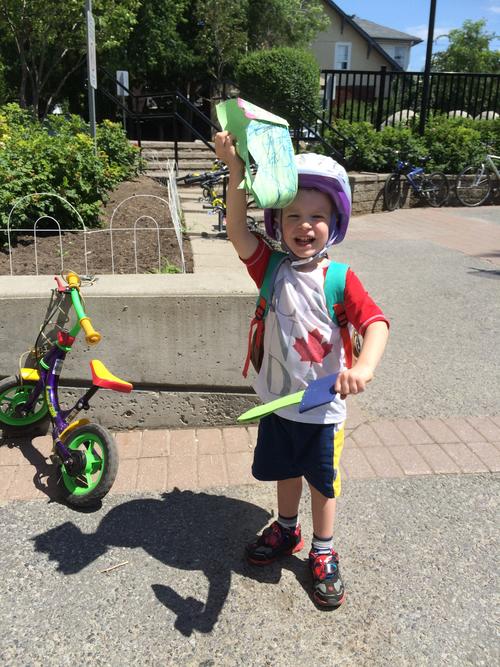 This week Elizabeth was off to her fourth year of farm camp, where she looked after Phoebe the cow and generally had a wonderful time. One of the best parts was after camp when we were "helping" the cows walk out to pasture and the farmer let her have a ride on his cart! (Matthew was too shy)
One of the latest things at the farm is the robot that is used to push the cow's food back within reach during the night. They were working on the roofs all over the farm so there was a lot of hammering and plastic draped all over. On the plus side, we got to watch scissor lifts in action.
Matthew is quite taken with a cow named Dinosaur, so Elizabeth has been giving him daily updates. Though I was sad to discover that MY favourite cow is now hamburger. I can't seem to find any previous entry about it but back when we were visiting the museum every day in 2011(?) there were twin Jersey cows born. The staff made a big deal because twins in that breed aren't common, and the ultrasound tech missed noticing the second twin. I was actually lucky enough to get to see the ultrasound tech in action that year - it was pretty cool! Anyway, Sephora and Safari got a lot of attention and were kept at the farm much longer than usual (usually the boys get sold right away and the girls go offsite from about six months to two when they are ready to start milking). They were SUPER friendly. Elizabeth talked about the time we found that "naughty cow" snacking on the horse feed after escaping from her pen for years afterwards. Anyway, Elizabeth enjoyed her week a great deal and Matthew is looking forward to being four so he can go too.
Matthew had his first week of summer camps at GNAG, a kindercamp with a dragons and knights theme ("Tykes of the round table" - with a name like that, we kind of felt we had to sign up...) There were crafts and games and even a day at the splash pad! He totally adored it and only agreed to come home in the afternoons so that we could go to the farm to see Elizabeth.
You might also like
- Snow, NAC, GNAG Halloween, dinner
(0.396352)
- At Mary's
(0.393401)
- Skating
(0.392259)
- Farm Camp and On the Water Camp
(0.392178)
- Home again, home again
(0.391935)
All