October 28, 2009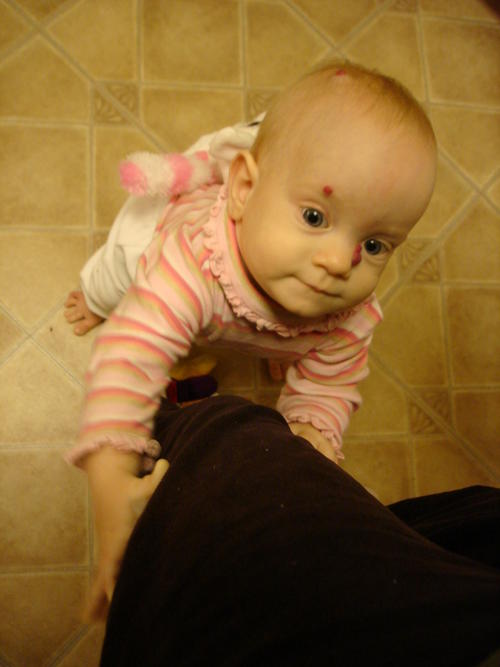 Elizabeth is eight months old today! At eight months, she is a very, very busy girl. She now holds her hands up when she wants "up" or "out" (of the exersaucer) and spends a significant amount of time climbing on things.
She's very frustrated by her inability to stand unassisted, but is practising at every chance she gets. Unfortunately this means we have to be quite vigilant in watching her because she'll stand up, let go of whatever it is she used to pull herself up and then gravity takes over...
No longer can we let her crawl around the bathroom by herself during our own showers as she tries to join in. After an unfortunate toilet seat licking incident, mom and dad daren't let her prop herself up against the toilet...
Preparing meals is more difficult too. When she's not propelling herself towards the shiny metal strip that edges the step in the kitchen, she's eating your slippers or grabbing your leg. We do have a playpen in the kitchen, but for some reason Elizabeth screams and screams when placed there.
You might also like
- End of an Era
(0.374541)
- Matthew's first skating class
(0.371461)
- Dovercourt
(0.365114)
- 22 months: Little Helper
(0.363636)
- The unsuspecting sleeping baby...
(0.35611)
All