August 7, 2016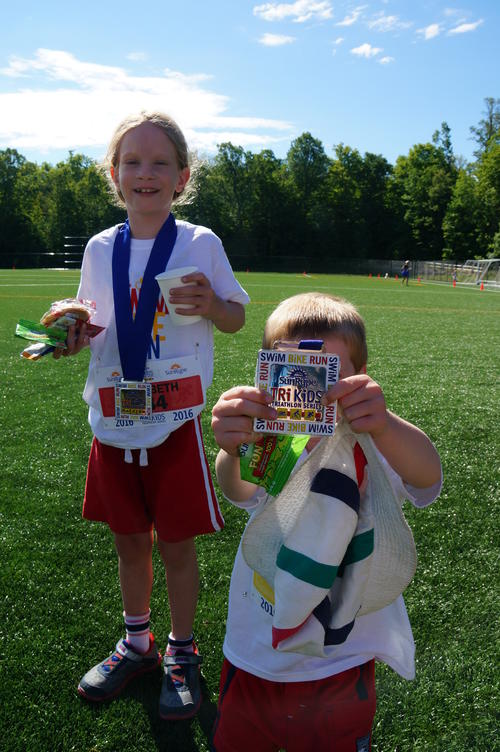 Elizabeth wanted to do a triathlon after watching the Ottawa triathlon near our house, and when I realized Matthew was old enough to do it do I signed up both kids even though it meant that we'd need to be packed for the cottage the night before and en route at a crazy early hour.
Elizabeth and Matthew liked doing the triathlon. Elizabeth's favourite part was the biking. Before the race she thought that the swimming would be her favorite part but then during the race she got to pass a bunch of people so that was her favourite. Matthew's favourite part was the swimming. The race was very well organized and highly enjoyable. My favourite part was the swimming because it was nice and cool on a very hot day.

The most surprising part was that the water was very cold. Elizabeth had a personal dresser to help her transition from swimming to biking. The personal dresser was not speedy AT ALL and insisted Elizabeth put on all the items we'd left in transition. After doing it we all concluded that next time we'll skip the socks and the kids will not bother with shorts and shirts. I'm not sure what I was thinking, but I will tell you that I was frustrated enough with how much time I was burning that I only put one sock on. We actually watched the Olympic triathlon transitions a few times to try to figure out what the "professionals" do. Elizabeth thinks that the way they hold their bikes while running is going to take a whole lot more practice and a lighter bike! (She's right!)
Both kids are already looking forward to their next triathlon.
You might also like
- Ballet
(0.406015)
- Virtual Piano Recital
(0.397163)
- Cottage Days: Support boat
(0.392327)
- A shower and the Great Glebe Garage Sale!
(0.385787)
- Virtual InHouse
(0.383595)
All