August 28, 2016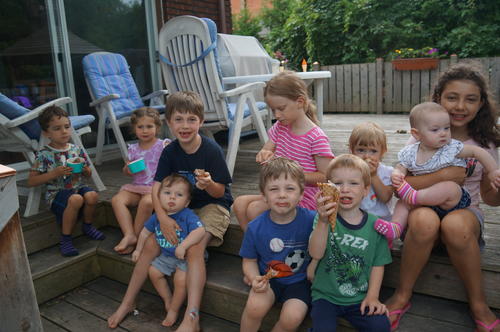 Summer means that feasting on ice cream is legitimate. This is a good thing as we tend to do so regardless but at least in the summer we can feel less guilty about it.
For the past few years we've been doing an ice cream party as a further excuse to indulge and sample a wider range of flavours than we might otherwise find an excuse to pack into our freezer. This year the kids from the street flocked over in great numbers. Some of them are now old enough to actually be interested in board games. Auntie Janice was caught outside in a sudden torrential downpour and had to be rescued.
There was much oooing and ahhhing at the bookshelf work in progress. Oh and there might have been ice cream. Even made on site during the party by slave labour ice cream. I think this might be a tradition now...
You might also like
- Good Friday
(0.334906)
- French Class
(0.330176)
- Progressive Supper
(0.327245)
- Homeschool
(0.325991)
- Cold weather activities
(0.324759)
All