August 18, 2016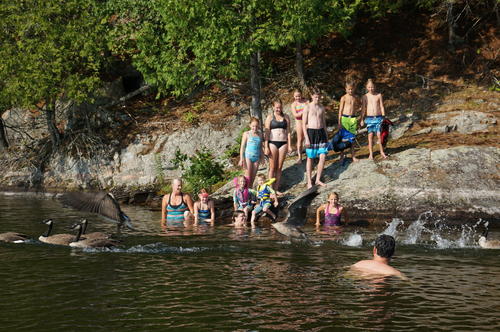 Elizabeth swam to and from the point (1km) both weeks and Matthew swam back.
Elizabeth wasn't even winded and finished well ahead of me both times. Matthew required significant towing assistance in order to go in the right direction but by week 2 he'd gotten much better. All that practice!
I think Elizabeth could have managed at least one direction without a life jacket, but she lacked my enthusiasm. Week 2 was COLD (we were the only point swimmers, and there was only one other swimmer!) so I felt that having got them into the water was enough.
1
On October 22, 2016 at 09:10 am
Grandma H
said:
Wow! super proud of all your swimming!
You might also like
- Cottage Days: Point Swim and Treasure hunt reprise
(0.366755)
- Valentines
(0.332143)
- Misty Moisty Morning
(0.329493)
- Cottage Days: Visit with cousin Ryan
(0.324675)
- Summer bucket list: Survival Day
(0.323049)
All