September 23, 2016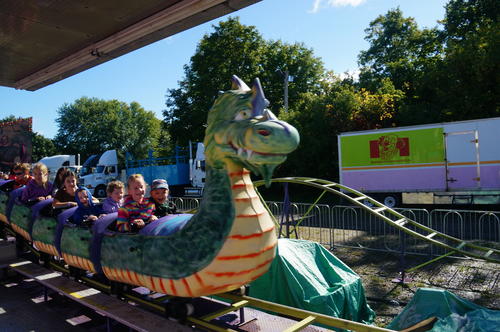 We went to the fair instead of going to school today!
It was Xander's fifth birthday, so his family, our family, Auntie Janice and Grandma and Grandpa Henderson all drove to Carp to check out their rides. So our whole family except Brendan, who had to work.
We saw horses (and buried some of them in our long-running car game). Uncle Dave had an amusing exchange with his kids "Are those really ponies? They don't have spikes on their heads" "Oh you are thinking of unicorns" "oooohhhhh"
There were many tractors of all vintages, which we admired in place and on (stinky) parade.
Auntie Janice thought the coolest thing was the steam powered boat and little people. "We got to see them put the milk in" said Elizabeth. "Milk?" I repeated, puzzled. "It's what makes it go!"
Elizabeth said her favourite part was "everything", especially the dragon rollercoaster and the ferris wheel. Matthew's favourite part was getting a new stuffy from one of the ridiculously overpriced exchange a duck for a flimsy stuffed animal booths. Elizabeth brought her own money and bought a big pig "Fluffy". She also lent Matthew and her cousins money. Matthew picked a sun he has dubbed "Hooky". Xander got a sun too and Isabelle had a butterfly. Auntie Janice attempted to win herself an owl but unfortunately there were insufficient participants and she got a big frog instead. Xander got to have him instead as it was his birthday!
Amelia got to go on the merry-go-round with me, Matthew, Xander, Elizabeth, Karen and Isabelle. She wasn't quite sure what to make of it. Matthew flatly refused to sit on a horse. Isabelle started sitting and then changed her mind at the last minute. Afterwards Matthew thought he might like to try a horse but we decided to go on different rides instead.
We went on rides until we ran out of tickets. Well - actually the adults mostly watched and reminisced of rides in years gone by but it was fun even if I should have worn my boots.
We went back to Dave and Karen's for birthday lunch from Swiss Chalet and cake. Uncle Brendan drove to join us, along with Auntie Janice's food.
You might also like
- Halloween
(0.411469)
- At Mary's
(0.411371)
- Christmas
(0.408023)
- Leaping Lemons
(0.40747)
- A beanie boo birthday party
(0.406968)
All