September 30, 2016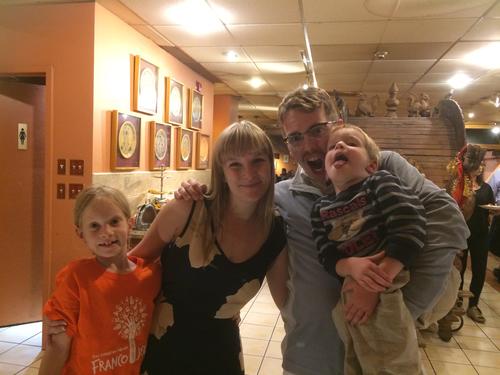 Do Elizabeth and Matthew want to be a flower girl and a ring bearer in Rachel and Creighton's wedding? But of course! Ah, but that means they are going to be part of the ceremony and will need to be part of the rehearsal and that happens late at night the night before the wedding when they will be up until the wee hours of the night... Oh. Yeah so that realization hit the other day. Ah well said Daddy, they will be fine. So much excitement the adrenaline will carry them through. Let's hope so...
The rehearsal involved a real dress (not the dress - but Rachel's mom's dress), real rings (tied to pillows but still - eek) and some very cute if somewhat confused kids. Then there was a short walk to a near by restaurant that has likely closed by the time this has been posted after having so many wild kids running around climbing on things that I'm sure were not meant to be climbed on and misplacing their food on the floor. It was Indian cuisine which is not something we've particularly exposed our children to yet which added to the excitement. In the end though they all did pretty well and there were no total meltdowns despite the late hour.
Now the question is will they be civil tomorrow, and perhaps more importantly will they do anything that will make their parents want to disown them as they lead the way down the aisle (sure hope that ring is well tied onto the pillow)?
You might also like
- Wedding #RayCray2016
(0.403055)
- Elizabeth is eight
(0.377943)
- Tubing and Mr. Bear's treasure (injury edition)
(0.377778)
- Grading
(0.377267)
- Social Distancing: Day 45
(0.376068)
All