October 10, 2016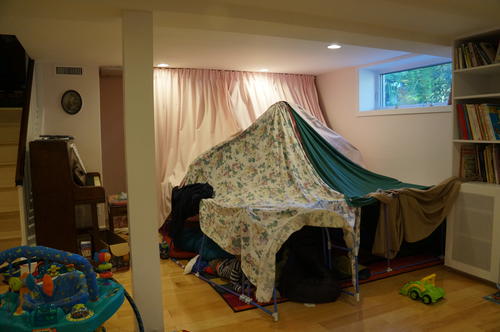 Isabelle and Xander stayed overnight in the biggest fort we've built so far. The older two went to sleep fairly quickly but the three year olds didn't stop giggling and poking each other until 9:30pm. Of course Isabelle was up again at the crack of dawn and woke up all the others who promptly turned on all the lights and began to party. I shooed them back to bed at 4:45am. Despite the extremely perky "Good morning", they clearly knew they were up too early since they scampered back to bed as soon as I opened my mouth. Sadly, my imitation of a grouchy dragon who has been woken from hibernation was not enough to settle them back down. Isabelle in particular was clearly not planning any more sleep and eventually I sent her upstairs for some Grandma story time. Elizabeth slept another half hour and then she and Xander whispered at each other about all the things they meant to do together in the daytime. At 6:45am I let them get up for breakfast. Matthew, of course had fallen asleep by this time and had to be woken up before he was ready.
Our grand plan was to head out apple picking and the first challenge was deciding where to go. Kilmanock Orchard has "permanently closed" (Boo!) and Mountain Orchard was picked out, but when I discovered that the Log Cabin Orchard figured they would have apples, pumpkins, a petting zoo and a wagon ride on the holiday Monday, we were sold. I filled the van with my three, the two sleepover cousins, and both Grandmas. Theo, Auntie Karen and Auntie Sarah met us there.
There were still a few apples on the trees. Everyone enjoyed climbing up and down the very tall ladder, especially Matthew who could barely be coaxed into letting others have a turn. Amelia quite enjoyed grabbing her own apples this year. At the petting zoo Elizabeth liked the pigs and the bunnies the best. She named all of the chickens with Auntie Sarah. Matthew liked the baby goat the best. "I got to be a kid with the kid!" After apple picking we waited a really long time for the world's shortest ride to the pumpkin patch. Pumpkins big and small, ripe and not-so-much were all carefully selected. Then we divided up sandwiches and other lunch goodies for the car, said goodbye to cousins and headed home. Unsurprisingly, the older two fell asleep and had a LONG nap.
We wound up the day with "greek night". I forgot to buy a few ingredients, but we had mock tzatziki (yogurt and mint) with homemade GF pita; kale salad with greek feta dressing, tomato, mozzarella, red onion and cucumber; greek marinated lamb souvlaki, lemon baked potatoes, sweet potato fries and plain rice (for Janice). And of course we made saganaki. Elizabeth got to squeeze the lemon on the flames for her first time.
You might also like
- Pumpkin picking
(0.42776)
- Karate Tournament, Birthday and ER Part 2
(0.424878)
- Cousin sleepover
(0.421361)
- Summer Week 1 - Visiting
(0.419214)
- The Big Clock
(0.416928)
All