October 12, 2016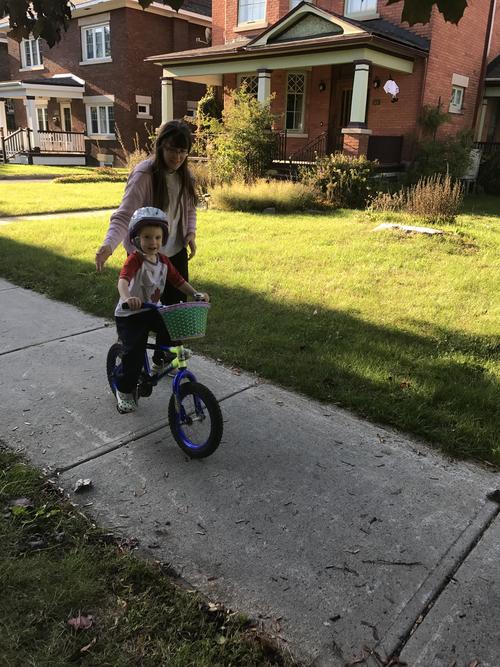 After Elizabeth learned how to ride Maria's old bike standing up, the kids decided it was time to try their "big" bikes. Elizabeth had been refusing to ride the bike she inherited from Erika ("too scary") and earlier in the summer Matthew's legs weren't long enough to reach the pedals. But everyone has longer legs, so Elizabeth was happy to discover she now can manage the bigger bike (she wants BIG WHEELS for the next triathlon) and Matthew was thrilled to finally be able to ride his pedal bike. He can't start or stop on his own but he can ride it! Actually after a few tries he managed to figure out how to stop, but he strongly prefers to have an adult close by to help avoid spills.
When Elizabeth learned to ride her bike, pedalling was her biggest problem. Matthew's biggest problem is steering! He desperately wants to ride on the road so he's working on remembering to look where he wants to go...
Now that Matthew isn't riding the balance bike, he generously declared it to be Amelia's. She was super excited to try, but her legs aren't quite long enough to actually balance it on her own. Luckily all the neighbour kids were willing to help her "bike" up and down the sidewalk.
You might also like
- Sledding disaster
(0.375)
- Spring!
(0.373926)
- Jello bath and peaches
(0.369186)
- Summer school week 2
(0.361783)
- Quilt Show
(0.361111)
All