August 22, 2016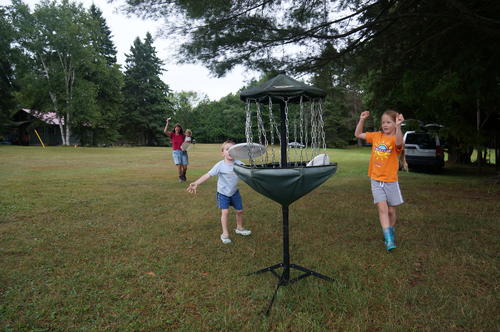 In addition to tubing, another super amazing addition to our cottage fun this summer was Kids Club.
Bondi challenged us to become official Bondi Outdoor Club members (and win prizes). All the kids participated to the best of their abilities.
Amelia didn't write a poem, but she did participate in the most hilarious game of crawl tag with her older siblings who were determined that she would complete as many challenges as feasible.
Elizabeth's poem:
Squeegee is my best pony
She is with Abby so she isn't lonely
Squeegee likes eating carrot cake
Squeegee likes going in the lake
Elizabeth's essay (although her creative spelling might be the best part):
"My favourite part of Bondi is playing at the cottage and the beach! I also like everything at Bondi!!!" (Note the Olympic symbols - that's definitely been a theme this year)
Matthew's poems (a collaborative effort with his sister, who then got mad when she decided she liked his poem better than hers):
Pony I like your nose and tail
Only don't kick me with your hooves
Now I like to ride when you go out
You are friends with all the animals ...and me.
Squeegee has a nose, tail and eyes
Squeegee gives a ride to me
Squeegee's tail swats the flies
Squeegee I have to give you a huggy
Matthew's essay (dictated):
"My favourite part of Bondi is going swimming cuz I like going swimming. I was about to do a flip but you can't on a boat so you have to do it in the water. I did a big swim at the point a thousand times. Can't do that at home."
We brought the leaves home with us in order to trade it in at the museum of nature, but so far the kids can't bear to part with them so they are in their collection of cool things.
We didn't quite complete everything, but that just gives us something to strive for next time. Matthew picked out his very own kite as a prize, while the girls got some inflatable beach toys to play with.
You might also like
- Island visit and Scavenger hunt
(0.407135)
- Homeschool wk may 19-22
(0.394325)
- Nine months
(0.392457)
- Dovercourt
(0.388998)
- At Mary's
(0.385289)
All