October 28, 2016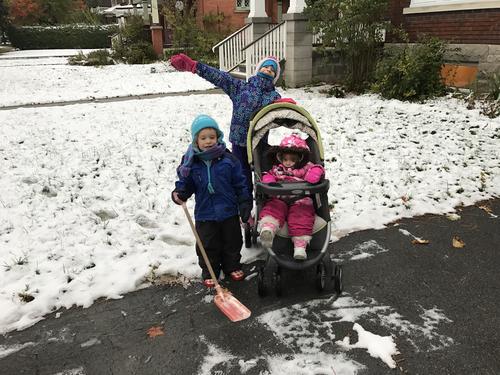 It's no secret that my kids love the winter. I think it was sometime in July that I confiscated Matthew's snow shovel, which he had been using rather forlornly in the sand while plaintively asking whether snow would be coming "soon".
He's been pretty excited about riding his "big" bike to preschool, but every morning he has been sure to tell me that soon it will be snow time and then he won't be biking. Instead he's planning to sled and take his snow shovel to school.
He also has been bugging me to put away everything for the winter, under the theory that this makes winter come sooner.
Not to be outdone, Elizabeth refused to get up for school a couple of mornings ago. "Go away!" she said. "I'm tired of having no snow and I've decided to hibernate until winter."
Today it snowed for the first time this fall, and the kids were ecstatic. No difficulty in getting out of the house today! As it happens, we aren't quite ready for snow here - the grass wasn't cut, the hoses are still out and the flower boxes are still out. Oops. I guess I should have listened to Matthew!
The kids made their first snowmen and Matthew shovelled snow off the lawns onto the sidewalk all the way to school. "Isn't that backwards?" I asked? Apparently not if you want to sled...
Amelia meanwhile isn't quite sure what to make of it all. She quite happily put on boots but was NOT excited about snowpants. Then she pulled mittens and boots off every other block on the way to and from preschool. Luckily it isn't actually cold yet.
You might also like
- LRT Grand Opening
(0.395109)
- Grading
(0.390832)
- Dance Camp
(0.390244)
- Cellphone
(0.389321)
- Roses and Thorns
(0.388608)
All