August 16, 2016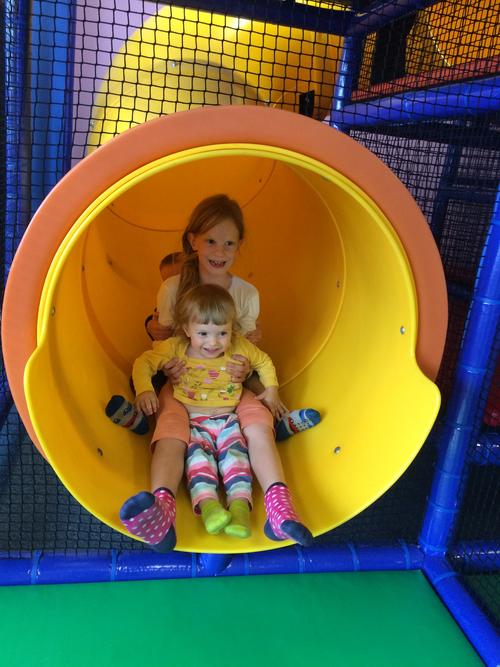 We'd had such excellent weather and the resulting drought caused a fire ban so we couldn't really complain when we had our first rainy day.
Rainy days are for playing ping pong in the barn (okay, so we did a bit of that on nice days too when we thought the kids might be getting too much sun on the beach).
The rain also happened to coincide with a special music/story/painting program at the Dwight library. The kids got to fool around with the puppets, tent and toys (as well as reading some books!) while waiting for the program to begin. Amelia was past naptime so she walked around catching Pokémon with Daddy.
Then we went to check out the new indoor Muskoka playground. I was kind of hoping it would check Elizabeth's summer bucket item of going to a "place like Cosmic Adventures" but the actual climbing structure was pretty tiny and I'd say that Elizabeth was definitely on the upper end of the target age range. She was super good about helping her sister get around on the structure without getting knocked over.
There were a lot more toys than we're used to, including a ton of trucks, cars and even a miniature roller coaster. Amelia loves things with wheels, so she loved it (especially after it thinned out a bit; she isn't quite as fond of too much commotion). The kids all wanted to bring the roller coaster home with us.
You might also like
- History Museum
(0.38326)
- Virtual School: Week 37
(0.382911)
- Spartan Race
(0.381509)
- Sheep Shearing
(0.380952)
- Ice Cream Festival
(0.38069)
All