September 9, 2016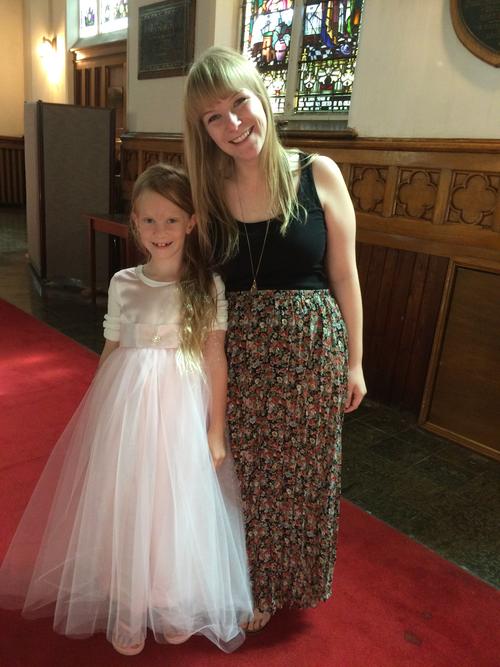 I *might* have mentioned Elizabeth's godmother Rachel once or twice - she's very much part of our family. So we were thrilled when she asked Elizabeth to be a flower girl and Matthew to be a ring bearer.
We first met Rachel when she was a youth in the youth group at church where Brendan and I were helping out. It turns out that Auntie Karen first met Creighton when he was growing up at the church where she and Dave go! In fact, his parents are close family friends, and Creighton even looked after their kids during the days for a few months. So Isabelle and Xander were asked to be in the wedding too!
At first, Elizabeth said she wanted to be a ring bearer instead of a flower girl. Rachel was quite willing (although I did show Elizabeth many photos of "ring bearers" from Google, pointing out that they all were of little boys...). However, it soon turned out that what Elizabeth wanted to do was "everything". She wanted the pink dress, AND the flowers to scatter, AND the rings... So flower girl it was...
Elizabeth and Rachel went on a bonding expedition to look at dresses. To my surprise, they came back without a dress, but two stuffed cats and a bracelet! They went out for lunch and had a wonderful time. Creighton's mom decided in the end to make her beautiful dress.
The boys had a fitting at the store together. I was quite shocked to discover that Matthew somehow managed to get out of the house without any underwear. Luckily for me we didn't have to try on more than one pair of pants!
You might also like
- Good Friday 2015
(0.399368)
- Mother's Day
(0.392205)
- Early Christmas
(0.391076)
- Skating
(0.38975)
- LRT Grand Opening
(0.387223)
All