October 7, 2016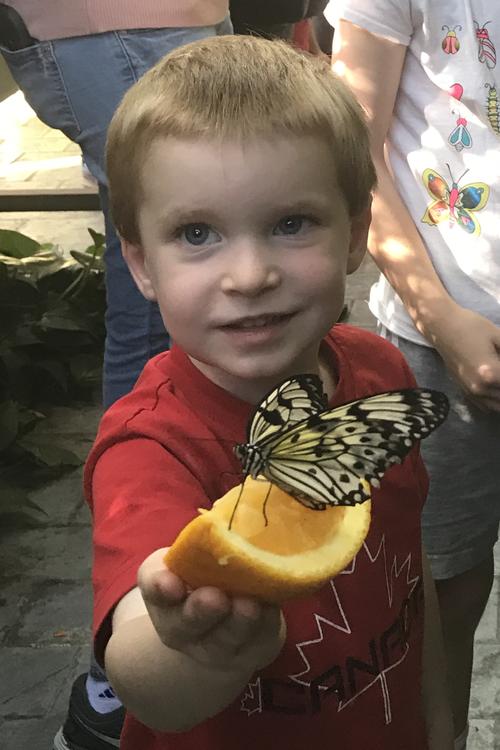 I decided to take Elizabeth out of school on a weekday to avoid the weekend line-ups at this year's butterfly show, but neglected to look up whether it was a PD day for the English school boards. Turns out it was. My mom, Brendan's mom, Brendan and our kids all piled into the car to meet Lorianne in between her classes and there was already a 90 minute wait by the time we arrived. The weather was nice, but unfortunately Lorianne and my mom couldn't stick around to actually see the butterflies. Note to self: next year check the school board calendar...
Elizabeth's friend Lauren from piano happened to be waiting too so they had a pretty good time playing together while we waited in the scorching hot sun.
Elizabeth refused to hold a butterfly as usual. Matthew was game. Amelia was deeply suspicious. Daddy and Auntie Janice took many photos while I tried to save the long-suffering butterflies from being crushed and/or clobbered with oranges. Matthew talked me into letting him borrow my phone so he could take pictures too. 650 photos of the floor later... Always a good time, except perhaps for the butterflies...
You might also like
- Victoria Day
(0.379021)
- Mother's Day
(0.376214)
- Chickadees
(0.376)
- Preparing for Gingerbread
(0.375)
- Hike in the woods
(0.372197)
All