December 18, 2016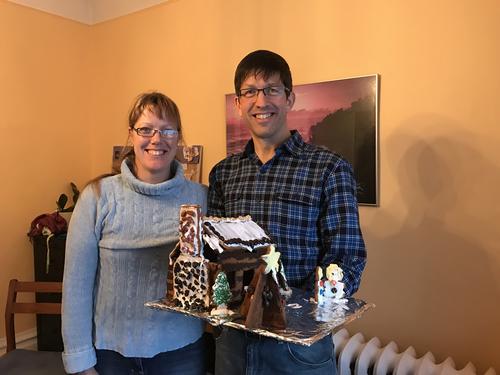 Andre didn't quite finish his gingerbread in the time he had to work on it, so he and Heather came back the following day. Heather showed us how to make special sugar icing using only sugar, which is amazing because it is Janice-safe! Basically you pour sugar into a pan, heat it until it melts and dip the edges of your structure into the sugar glue. When it cools it holds extremely well, but it is decidedly NOT kid friendly as an activity.
Janice had started making her own structure at the beginning of the day but as more people arrived we got nervous about the potential for cross-contamination so she opted to put it away for later.
I didn't even try assembling my own structure (a basic house) and while the kids put together theirs they didn't have time to decorate because they were too busy "helping" other people. So after church we had a decidedly calmer gingerbread part II in which we used up as much of the leftover candy as possible!
Janice made an ambulance, which was very fitting. Elizabeth made a Pikachu (with a tree and dance floor). Matthew made R2D2. He's currently very into Stars Wars, not that any of my kids have any actual idea what that is, but I guess they hear about it from friends.
You might also like
- Gingerbread 22nd edition
(0.407955)
- Gingerbread
(0.394444)
- Preparing for Gingerbread
(0.383313)
- Pie Day #2
(0.382701)
- Fancy hotel
(0.381481)
All