October 31, 2016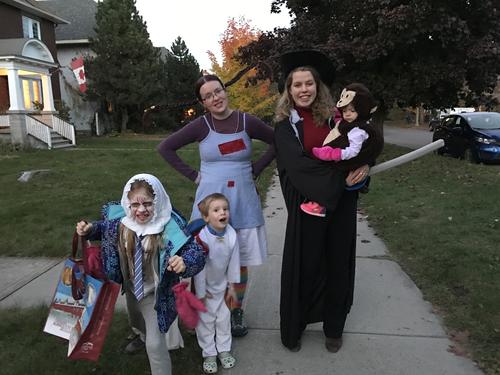 Elizabeth opted to be a baby boy for Halloween dress-up at school (hence the tie). She kind of wanted to wear a diaper. Brendan vetoed that idea.
Matthew was a "fire doggie". Except that the fireman hat wasn't compatible with the dog hat costume, so he decided that I got to be the fire doggie and he could be my puppy.
We carved our pumpkins in the frantic rush before school. Matthew designed a robot, Lorianne had a phantom of the opera pumpkin with a piano on the back, and Elizabeth demanded Pikachu.
I got to help out and make the snack for Matthew's preschool. I had grand visions of entertaining snacks but ended up settling for ghosts on the cheese when the allotted time didn't work out.
Our Halloween supper (to which I invited many the neighbours) was much more exciting - I had fun...
Elizabeth decided to be a ghost, which apparently required much blood. Yuck. We took Lorianne trick-or-treating for the first time in the city. Amelia LOVED trick-or-treating and didn't want to stop when we decided it was bedtime. Matthew started talking about going back to eat his candy after only a block. Elizabeth was sad we didn't let her go trick-or-treating with Adi this year, but the timing just didn't work out and it was pretty fun to trick-or-treat with little Elizabeth from down the street.
You might also like
- Halloween
(0.432069)
- Halloween
(0.373267)
- Halloween
(0.366308)
- January Duty day
(0.364384)
- Piano Recital
(0.363636)
All