November 29, 2016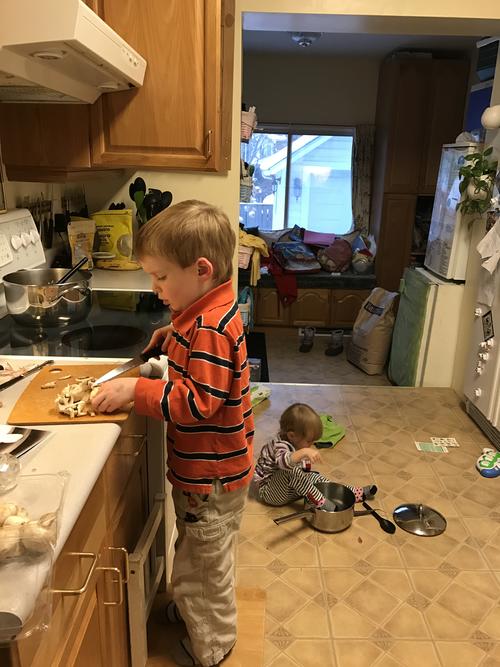 We've tried to be intentional about getting the kids to help out in the kitchen, although I do find it challenging to schedule regular time when the kids are in school.
I tripped over https://kidscookrealfood.com/ through our homeschool group and loved how the instructor broke down knife handling skills so we signed up to do their course.
Elizabeth was pretty excited to get to use a sharp knife and we even started practicing using the oven this year. She is terrified of the oven, so we are only putting cold things in, not taking hot things out.
Anyway after doing a few of the lessons I would definitely recommend the course and we definitely plan to finish it up although I've done a fair amount of just cooking on my own too. Both kids actually can be pretty useful in the kitchen when I let them, peeling, spreading, chopping etc.
One of their favourite things to cook is pancakes, aside from the cracking eggs part which none of my kids are keen on because they get gooey fingers!
Elizabeth likes cooking, but she prefers to play if given a choice. Matthew is super interested in cooking and would love to cook every day. Amelia can't wait until she gets to do more...
1
On February 2, 2017 at 04:06 pm
Marielle Chartier Henault
said:
Hi Julie



I was reading up your family blog trying so many activitie and I was wondering if you would be interested in trying a free mermaid class with us. It is a fun fitness activity for the family and we also organize birthday parties. I am convinced your readers would love to hear about your mermaid swimming experience



If you're interested I can set up a time for you to come down and check it out.

Our school in Ottawa is at the YMCA 180 argyle.



P.S. Here is a video of what we do: https://www.youtube.com/watch?v=unvtMH7_fko



Marielle Chartier Henault

www.aquamermaid.com

514-601-2808
You might also like
- Skating
(0.394265)
- Dovercourt
(0.392374)
- Amelia 21 months
(0.391304)
- Cooking
(0.389722)
- Crystal Gardens
(0.386427)
All