January 5, 2017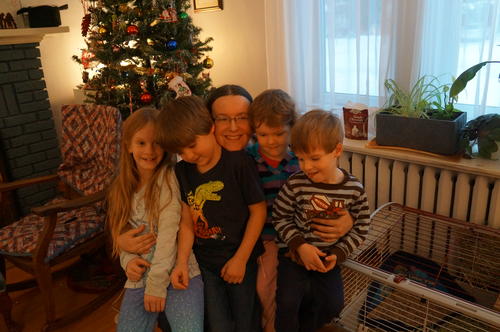 Taboo, roaring fire (with advent wreath as fire starter) and super hero twister. Not a bad way to start out a birthday party!
Our family, Dave and Karen and family, Mom and Dad, Heather and Andre and Heather's friend Denese, Uncle Mark and Grandma J all went to Ottavio's restaurant in Gatineau for Auntie Janice's birthday. This was a huge deal because it's the only restaurant we know of that is actually capable of feeding Janice with all of her allergies. It took months of planning and Janice delivered the ingredients that she trusted to make sure that the evening didn't end with an epi-pen.
They are absolutely amazing there. Separate coloured plates for celiac and Janice didn't even get one hive from the restaurant! The kids menu was declared to be a new favourite place to eat. We highly recommend them, especially if you have food allergies.
Afterwards we came home for our long delayed Christmas pudding. I was underwhelmed by my attempt - too many errors this year made for a rather dry and falling apart pudding. It was still quite edible when slathered in sufficient hard sauce. More serious was the discovery that someone must have swallowed one of the pudding charms. Oops.
You might also like
- Christmas
(0.398844)
- Carp Fair
(0.373134)
- Flour
(0.370021)
- Chickadees
(0.367437)
- Happy Easter!
(0.36131)
All