November 20, 2009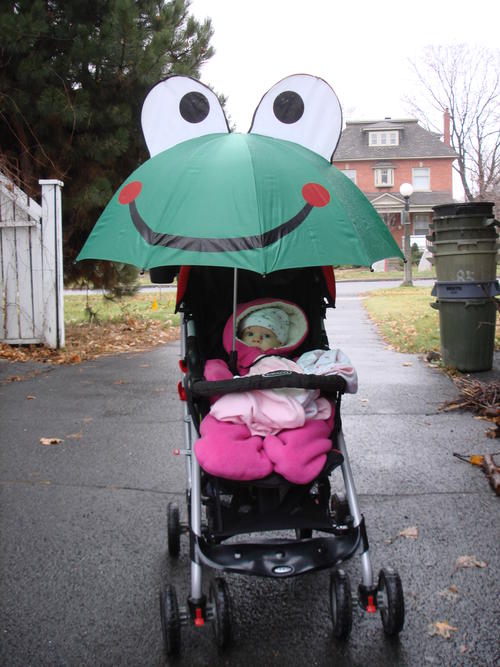 Grandma H, Elizabeth and I went for a long walk around the neighbourhood today, despite a persistent fall drizzle. We don't own any kind of stroller weather shield, but since we've made it almost nine months without one and our so-called corporate umbrella seemed to work okay, I suspect this is one piece of baby paraphenalia we'll do without.
The one drawback: towards the end of our walk the wind picked up causing the umbrella to fly up. We concluded that the umbrella solution works best for calm days but it did keep most of the rain off the baby.
Popping in and out of the various stores was fun but made it clear that stroller + snowsuit + baby + winter + shopping is not a combination I like. Elizabeth doesn't always like to be worn right now (wants to wiggle!) so when in one of those moods I guess we'll forgo the shopping or head to a covered mall.
The octopus was from Octopus Books, a local bookstore that was willing to order in Daddy's Christmas stocking book for us. Elizabeth and Grandma had way too much fun playing keep-a-way...
You might also like
- 13 Months
(0.357906)
- A shower and the Great Glebe Garage Sale!
(0.349705)
- 22 months: Little Helper
(0.33998)
- Christmas Eve
(0.339644)
- Twenty-two months
(0.338061)
All