January 11, 2017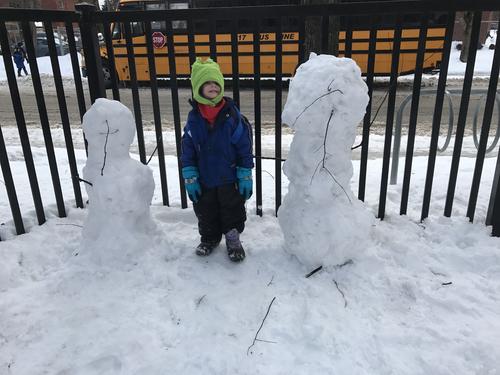 My third duty day for Matthew's preschool class today! We've been arranging play dates with some of Matthew's classmates in an attempt to help him acclimatize and I'm pleased to report that it seems to be working.
Matthew and I helped his friend Wren build a couple of snowmen during our outside playtime. Then he dragged me around to every station before settling down to read many stories. We ended up with about fifteen kids clustered around me, each with their own book they wanted me to read!
During preschool Matthew was still mostly wanting to play with me but he obviously now has friends and his last "Day in a life" paper that came home from preschool now says he's happy and talkative (THAT's my kid) instead of very quiet.
I'd been lamenting that I hadn't had time to do anything interesting for snack and Lorianne totally talked me into making snowmen. I was pretty excited, although apparently a big percentage of the kids do not like cheese so we had lots of cheese rolls left over. Elizabeth, Amelia, Matthew and Daddy didn't mind in the least. The kids did seem to appreciate the cutesy snack though.
You might also like
- Duty day
(0.418398)
- Strike Day
(0.394383)
- Cousins move in
(0.386179)
- Virtual School: Week 34
(0.381319)
- Roses and Thorns
(0.380764)
All