March 18, 2017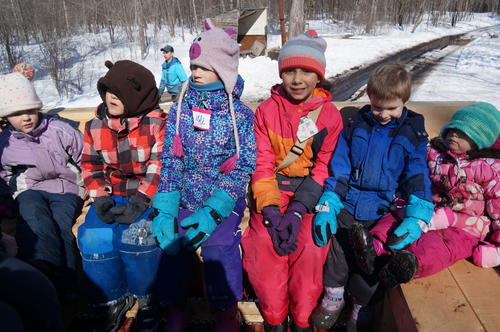 We really wanted to go to a sugar bush with Rob and Jill and their kids but it was so cold Tuesday that we were scared off. Plus I didn't really want to spend a couple of hours in the car!
I suggested it as an activity to Karen on Saturday and she not only was keen to keep us company but she discovered a place that checked all our requirements only a fifteen minute drive away!
The Log Farm is new this year and we thoroughly enjoyed our visit. We brought neighbour Mila along with us which was pretty fun.
You pay a flat fee up front and then there's a little heritage house to visit, lots of animals and a tractor-pulled wagon ride up to a bonfire and maple syrup boiler. The sap had just started running the day we came and all the kids were excited to try a drop or two. Then we went for a little exploration in the woods before taking the wagon back where we bought some maple taffy.
The heritage house was quite interesting. I thought it was especially interesting to see a straw mattress close up (I would not want to sleep on one!) Eleven people crammed into three small bedrooms in the winter. In the summer time the boys slept in the barn. "Why would they do that?" wondered Elizabeth. Uncle Dave explained about chores, and about how the girls and boys had different tasks. "That's NOT FAIR!" said Elizabeth.
They were talking about having visitors collect their own sap when it started running properly; not sure if that's going to be a thing or not. The farm is an old NCC property and used to be operated as a sugar bush until Canada cut the NCC budget in the early 1990s. Then it became part of the Lone Star Ranch until they terminated the lease in 2015. Now a family has taken it over to run a sugar bush, operate a farmer's market and maybe do a pumpkin patch in the fall. It's a pretty amazing place and super close to the city so I'm sure we'll be back.
We were lucky to have gorgeous blue sky and the kids are talking about next time - they want to bring marshmallows to roast on the fire :)
Obviously we skipped the pancakes so I can't tell you whether they were any good, but I would highly recommend a visit.
1
On April 3, 2017 at 04:28 pm
Grandma H
said:
What a lovely day! Did the kids like the sap?
You might also like
- Calypso
(0.419861)
- Children's Museum
(0.41626)
- At Mary's
(0.415842)
- March Break
(0.41476)
- Farm Camp
(0.409744)
All