April 7, 2017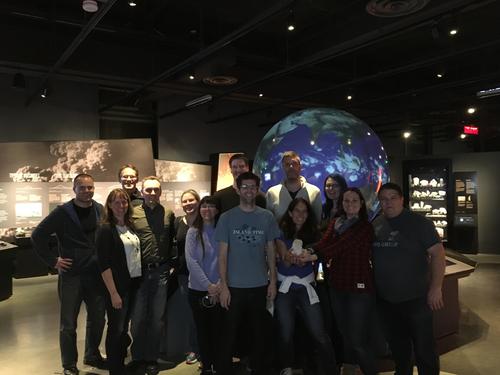 Our awesome neighbours invited us to do an Escape room with them today. I've always wanted to try one so once I'd arranged babysitting with Grandma J and Auntie Janice I jumped at the chance.
An Escape room is basically an experience where you get locked into a room for a certain time period with a group of others and you need to solve puzzles in order to get out.
Hosted at the Museum of Nature, this particular escape room "The Heist" was a jewel heist and we were a team of thieves who had to figure out how to disable the lasers guarding the jewel within an hour or be caught by security!
Needless to say of course our team was awesome and we accessed that jewel with six minutes to spare! Catherine would probably like me to mention that her part of the team actually completed their tasks in the fastest time our staff helper had ever seen.
Brendan and my part didn't go quite as smoothly. We're blaming the above average height of our group. Apparently super tall can sometimes be a disadvantage, especially when the clue writers are expecting normal height people to do the tasks.
I was pretty amused that I ended up being the map reader and navigator - those of you who know me well know that spatial orientation is not my strength, but apparently the many hours that I have spent at the museum have provided me with enough familiarity that I found it super easy for once.
Afterwards we went to Pure Gelato. Brendan says his crepe was amazing and he'd recommend it. They apparently have GF options but I was too nervous to try anything given that it wasn't so long ago that I poisoned myself.
All in all we had a great time and we're definitely going to do another escape in the future.
You might also like
- Home
(0.419753)
- Shopping
(0.40797)
- How many weeks?
(0.406422)
- FIVE
(0.405581)
- Covid shot 2
(0.399271)
All