April 17, 2017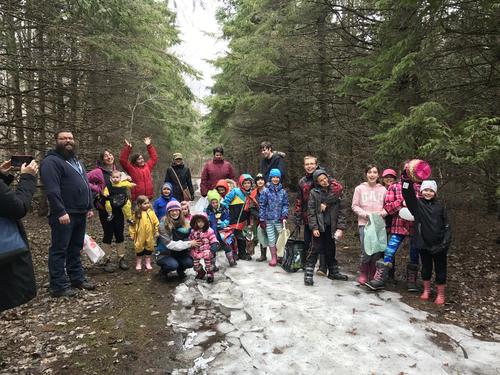 Rachel and Creighton may have absconded to Texas but we decided to do the egg hunt in the woods anyway.
We had hoped that the dogs and Rachel's family could join us but unfortunately they were only available on Saturday when we were in Brossard.
The original plan was to go to the Nepean Sportsplex in between church and dinner but it was pouring rain so we pushed it off to the Monday. Luckily most people could still come, although many of the guys had to work and Karen and Dave's crew ended up not being able to come at the last minute.
I invited the usual suspects from last year (Pastor Jared and family, Jessie and Kyle and family) as well as our neighbours (Catherine, her kids and two friends; Marit, her three kids, Roxanna and their friend, Alicja and their two kids, Lauren and her two kids) which I believe totalled 20 kids, although to be fair Charlotte and Nico did not participate.
I had been a little worried about all the work required to stuff the couple hundred eggs but we had a little stuffing party after the kids were in bed (perks of being neighbours) and it went pretty fast. Next year we're going to have individual bags for each of the egg hiders and maybe an adult tasked with staying at the front of the group to keep the hoards back in case of premature arrival but overall I think it went well.
Jared, Brendan, Janice and Roxanna did an EXCELLENT job hiding the eggs for us and handing out the eggs in a line went very fast.
I enjoyed the wonderful company, the beautiful scenery and the complete chaos of the actual hunt. Elizabeth wished Rachel had been there, but "it was a nice surprise to have so many friends come".
1
On April 21, 2017 at 02:58 am
Grandma H
said:
Look what you started, Katie and Ron!
You might also like
- Wedding prep
(0.385071)
- Rideau River Provincial Park
(0.381833)
- Music
(0.377234)
- Holiday activities
(0.376218)
- Elizabeth's 9th birthday party
(0.371917)
All