April 15, 2017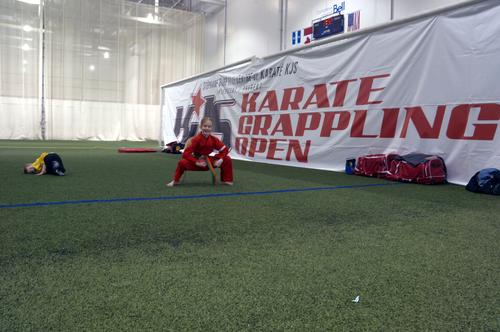 I mentioned Elizabeth joined the Douvris karate team, and she's really been enjoying the training. But it didn't take too many weeks before she demanded to know when she was "allowed" to do her first tournament. Sensei Cody suggested KJS and next thing I knew the kids and I were getting up at quarter to five to go to Elizabeth's first out of town tournament. I had originally intended to get a hotel to avoid the stress of travelling with a deadline but then I realized it was Easter weekend so that was that. A few people wondered why Brendan didn't come too, and whether I needed my head examined taking all three with me. We just decided that the house really needed some TLC before Easter dinner. Plus when I first floated the idea with other karate moms no one blinked so I figured it would be manageable.
Elizabeth was a little excited. I fully expected to have to wake her up, but apparently she woke up at 12:00, then 2:00am before counting down the minutes from 4 to 4:45am. Amelia was awake too, but Matthew slept in until 5am. He'd insisted on sleeping in his clothes so he would not have to get up but when the time came he was keen to eat breakfast and the older two played in the back the whole way to Brossard, Quebec instead of going back to sleep as scheduled.
We arrived quite early, which gave us lots of time to admire the figure skaters and hockey teams using the arena. Elizabeth got a bracelet with all her events and times listed on it and we wandered around looking lost for a while until one of the organizers took pity on me and explained the mysteries of the bracelet.
Soon other team members began to arrive and the tournament began. They seemed to have put most of the sparring events before the kata events, which struck me as odd since kids are much more likely to get injured sparring and then not be able to compete later. But I was glad Elizabeth did sparring first since my anxiety levels certainly dropped when that part was over. The younger two spent most of their time running around or imitating their surroundings.
Elizabeth hasn't been sparring very long and we didn't expect her to score any points. In practice Elizabeth's always been pretty risk adverse kid, which I appreciated very much when I saw she'd been paired with a pretty aggressive (and larger!) opponent wearing body armour. I didn't even know body armour was a thing before this. I was grateful Elizabeth didn't get paired with the even more aggressive kid immediately before her. That kid kicked HER opponent in the face, causing a pretty impressive nosebleed. I had a moment of "WHAT HAVE WE DONE?" but resisted my urge to yank my kid out of the ring. Anyway Elizabeth seemed to spend most of her time running away from her opponent and we didn't blame her one bit. I was quite impressed that she actually almost scored a couple of times.
Elizabeth had fun and seemed happy with how she did. She wished she could have had another two minutes with the same girl. "I think I was getting the hang of it, mom"
Elizabeth was not expecting to win a medal in sparring but she was a little disappointed that she didn't score better in her kata, especially after the other rookie teammate won a medal. I think she did awesome for her first try, but yes, my kid is a bit competitive. But I was really proud that she was able to put aside her personal disappointment to cheer K on and she was so excited that she was jumping up and down when he won. Then she insisted on staying right to the end of the competition, moving around from ring to ring to cheer for as many of her teammates as possible. She especially enjoyed watching Sensei Cody quite dramatically win the Grands.
I was also incredibly impressed with the team spirit. One teammate helped her warm-up and quite a few took the time to check when she was competing. Those that could cheered her on and a number of those that couldn't apologized for not being able to watch because they were competing at the same time (!) Her favourite sensei took the time to come over and be her coach during both of her events, to Elizabeth's great delight. At the end there was a little pep talk stressing how the team had done so well at the competition - not emphasizing results but instead talking about how the club had been noticed for being particularly respectful and showing good sportsmanship.
Elizabeth would have liked a medal but she settled for a celebratory slushie and then we booted it back to Ottawa in time to Skype Japan to wish a happy birthday to a very special 11 year old!
You might also like
- London
(0.490473)
- Umbilical hernia repair
(0.480259)
- WKC World Championships
(0.475431)
- Karate Tournament, Birthday and ER Part 2
(0.474901)
- Great Grandma Funeral
(0.474079)
All