April 16, 2017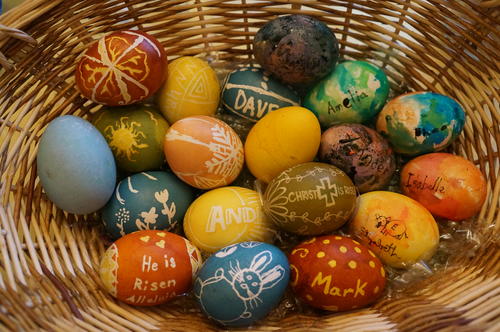 Alleluia! The Lord is Risen!
We began the day with a little egg hunt courtesy of my wonderful sister who went to the store late Saturday evening to locate chocolate eggs and then hid them for us.
Lovely Easter service with really great music. I organized a little scavenger hunt for Junior church which was unexpectedly well attended (36 kids!) but a lot of fun. Then we went home and got ready for Easter dinner for 17 people. Michael dropped by bearing an army of chocolate bunnies and we played the Junior version of Carcassonne. Not Elizabeth's finest moment (she kept trying to cheat so that she would win), but we did have fun.
Dinner was sous-vide lamb courtesy of Dave's marvellous machines, sweet potato and squash fries (corn oil and Janice safe salt), Chard salad bar with blueberries, toasted coconut, toasted sweet potato, salted pumpkin seeds and a blueberry vinaigrette dressing (one with sugar and one without). Bunny buns (glutinous and GF), Lentils, Trifle (one with and without sherry), "memories of trifle" for Janice and fruit. There were many, many juice and fizzy drink options as well.
The big goal to make most of the meal safe for Janice and I think that worked out pretty well, despite some unexpected difficulties with the meat.
You might also like
- Easter Sunday
(0.360273)
- Messiah rehearsal, Santa parade
(0.35914)
- Rideau River Provincial Park Camping
(0.355556)
- Happy Easter!
(0.354726)
- Easter Sunday
(0.346523)
All